About the Needle

Checking the needle

Fabric / Thread / Needle Combinations
About the Needle
The sewing machine needle is probably the most important part of the sewing machine.
Choosing the proper needle for your sewing project will result in a beautiful finish and fewer problems.
Below are some things to keep in mind about needles.
Thread and needle number
The lower the thread number is, the heavier the thread; the higher the needle number, the larger the needle.
Ball point needle (gold colored)
To avoid skipped stitches use ball point needles (75/11–90/14) with stretch fabrics.
Transparent nylon thread

Use a 90/14 to 100/16 needle, regardless of the fabric or thread.

Embroidery needles (Embroidery only)

Use a 75/11 home machine needle. When embroidering on heavier fabrics such as denim, use a 90/14 or 100/16 home machine needle.


top
Checking the needle
Only use sewing machine needles for home use. Other needles may bend or break and cause injury.
Never sew with a bent needle. A bent needle will easily break and cause injury.
Sewing with a bent needle is extremely dangerous since the needle may break while the machine is being operated.
Before using the needle, place the flat side of the needle on a flat surface and check that the distance between the needle and the flat surface is even.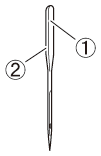 (1) Flat side (2) Needle type marking
- Correct needle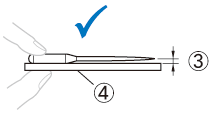 (3) Parallel space (4) Flat surface
- Incorrect needle
If the distance between the needle and the flat surface is not even, the needle is bent.
Do not use a bent needle.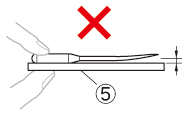 (5) Flat surface

top
Fabric / Thread / Needle Combinations
The sewing machine needle that should be used depends on the fabric and thread thickness.
Refer to the following table when choosing the thread and needle appropriate for the fabric that you wish to sew.
Fabric Type/Application
Thread
Size of Needle
Type
Size
Medium weight fabrics
Broadcloth
Cotton thread
60 – 90
75/11 – 90/14
Taffeta
Synthetic thread
Flannel,
Gabardine
Silk thread
50
Thin fabrics
Lawn
Cotton thread
60 – 90
65/9 – 75/11
Georgette
Synthetic thread
Challis,
Satin
Silk thread
50
Heavy fabrics
Denim
Cotton thread
30
100/16
50
90/14 – 100/16
Corduroy
Synthetic thread
50 – 60
Tweed
Silk thread
Stretch fabrics
Jersey
Thread for knits
50 – 60
Ball point needle
75/11 – 90/14
(gold colored)
Tricot
Easily frayed fabrics
Cotton thread
50 – 90
65/9 – 90/14
Synthetic thread
Silk thread
50
For top-stitching
Synthetic thread
30
100/16
Silk thread
50 – 90
90/11 - 90/14
The appropriate fabric, thread and needle combinations are shown in the table above. If the combination of the fabric, thread and needle is not correct, particularly when sewing heavy fabrics (such as denim) with thin needles
(such as 65/9 to 75/11), the needle may bend or break. In addition, the stitching may be uneven or puckered or there may be skipped stitches.

top