This type of line is typically caused by dirt or white out on the scanner unit. The scanner unit is the mechanism that reads the documents that are being sent or copied. This problem is usually resolved by cleaning the scanner glass, the white pressure bar and the scanner glass strip with isopropyl alcohol, and a lint-free cloth.
Please follow the instructions listed below:
Unplug the telephone line and then the power cord.
When you re-connect these lines later, make sure to connect the power cord first, then the telephone line.

Lift the Document Cover. Moisten a small piece of clean soft, lint-free cloth with Isopropyl alcohol and carefully remove dirt from the scanner glass.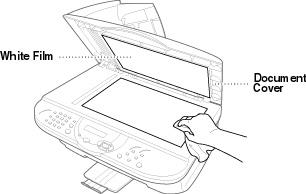 Clean the white bar under the ADF (automatic document feeder) and the glass strip located below with Isopropyl alcohol on a lint free cloth.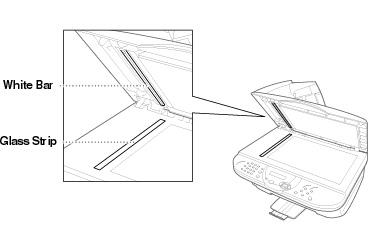 Do not use isopropyl alcohol to remove dirt from the control panel. It may cause a crack on the panel.