[LED indication]
Both the Ready (

) and Error (

) LEDs will turn on together, then the Error LED (

) will turn off after 0.5 seconds and the Ready LED (

) will turn off after 1 second, they will then both be off for a further 1 second. This procedure is repeated until the error is corrected.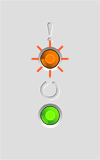 Meaning of LED Indication:
Toner Low
The toner cartridge will need to be replaced soon. Buy a new toner cartridge and have it ready for when Replace Toner is indicated.
If the printout is faint, hold the drum unit and toner cartridge assembly level with both hands and gently shake it from side to side several times to spread the toner evenly inside the cartridge.

Replace Toner (Continue mode)
The machine continues printing until the LED indicates Toner Ended.