How can I use my NFC-enabled mobile device with the Brother NFC-enabled machine?
NFC (Near Field Communication) is a new technology that allows for simplified transactions, data exchange, and wireless connection between two devices that are in close range of each other.
Using NFC, you can easily establish wireless connection between your NFC-enabled mobile device (such as smartphones and tablets) and Brother NFC-enabled machine by touching them together.

NOTE: Illustrations shown below are from a representative product and may differ from your Brother machine.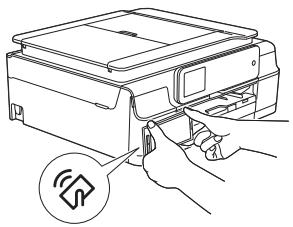 Then you can directly print from or scan to your NFC-enabled mobile device.

To use this function,
The mobile device must have NFC capability and run Android OS version 4.0 and later. Check your mobile device's manufacturer specifications to learn more.