For certain models, the wireless network connection can be used only when the optional Wireless Module is installed.
While attempting to set up the Brother machine on a wireless network, you may see a screen requesting a WPS PIN to complete the setup. This typically occurs if Wi-Fi Direct is enabled on your machine and you attempt to add a Wi-Fi Direct connection using Printers and Scanners in Windows. We recommend using the Wireless Setup Wizard or the Control Panel method to configure the wireless connection instead.
NOTE: The screens may differ depending on your operating system and your Brother machine.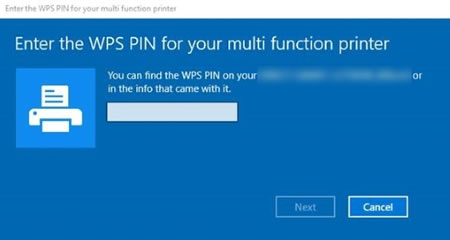 To resolve this issue, complete the following steps:
If the WPS PIN request screen is still open on your computer, click Cancel.
Reset the network settings to the factory default.
> Click here to see how to reset the machine back to the factory settings.
Reconnect the machine to the wireless network using the recommended wireless network setup methods.
> Click here to see how to set up your Brother machine.