I still receive the error message "Cover is Open" after I closed the scanner cover. (With Video Instructions)
If you still receive the error message Cover is Open, the scanner cover support and scanner cover damper may have not be mounted correctly.
The scanner cover support is the bar to support the scanner cover when you lift the scanner cover into the open position.
The scanner cover damper is located inside the left side of the scanner cover as shown in the image below.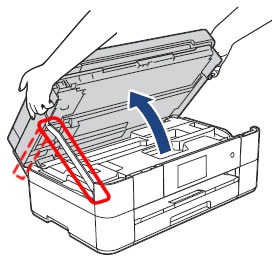 Follow the steps listed below to resolve this issue.

NOTE: Illustrations shown below are from a representative product and may differ from your Brother machine.
Place the machine on a bright flat surface for mounting the scanner cover support.
If you place the machine on a slope, you may catch your hand under the scanner cover.
Remove the scanner cover support and scanner cover damper from your Brother machine.
If the scanner cover support and scanner cover damper have already come off, continue to STEP 2.


*The video clip is being streamed from YouTube.

How to use the buttons:

Start the video

Skip the video

Stop the video

Restart the video

Running Time: 1.5 minutes
Operating Time: 5-10 minutes