The Jam Tray message appears if a paper jam occurs in the paper tray. When the Jam Tray message appears, the following LED indications is shown on the control panel. The Error LED (

) will blink twice and turn off for 1 second.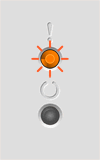 Please follow the steps below to clear the Jam Tray message.
Remove the jammed paper.


Press the button to clear the error.