Needle precautions

Selecting the needle depending on the thread and fabric types

Checking the needle
Needle precautions
Be sure to observe the following precautions concerning the handling of the needle. Failure to observe these precautions is extremely dangerous. Be sure to read and carefully follow the instructions below.
Only use home sewing machine needles. Use of any other needle may bend the needle or damage the machine.

Never use bent needles. Bent needles can easily break, possibly resulting in injury.

top
Selecting the needle depending on the thread and fabric types
The sewing machine needle that should be used depends on the fabric and thread thickness. Refer to the following table when choosing the thread and needle appropriate for the fabric that you wish to sew.
Use the same size thread for the upper (spool) and lower (bobbin) threads.
Sewing fabrics
Needle sizes
Thread sizes
Very thin
Fine tricot, Fine lace, Thin linen, Silk, Organza, Chiffon
65/9
Cotton: 80
Synthetic/ Polyester Long Fiber
Fine Mercerized Cotton
Lightweight
Voile, Taffeta, Synthetics, Silk, Batiste
75/11
Cotton: 60-80
Silk: "A"
Synthetic/ Polyester Long Fiber
Mercerized 50
Medium weight
Cotton, Gingham, Poplin, Percale, Pique, Satin, Velvet, Lightweight wool, Fine corduroy, Suitings, Linen, Muslin
90/14
Cotton: 50-60
Silk: "A"
Synthetic/ Polyester Long Fiber
Mercerized 50-60
Heavyweight
Denim, Gabardine, Tweed, Corduroy, Canvas, Duck
100/16
Cotton: 40-50
Mercerized Heavy Duty Polyester Long Fiber
Knits
Single knit, Double knit, Jersey, Tricot
90/14
(Ball point)
Cotton Wrapped
Polyester
Polyester Long Fiber
The smaller the thread number, the thicker the thread; and the larger the needle number, the thicker the needle.

Use the ball point needle when sewing on stretch fabrics or fabrics where skipped stitches easily occur.

Use a 90/14 to 100/16 needle with transparent nylon threads, regardless of the fabric being sewn.
The appropriate fabric, thread and needle combinations are shown in the table on the previous page. If the combination of the fabric, thread and needle is not correct, particularly when sewing thick fabrics (such as denim) with thin needles (such as 65/9 to 75/11), the needle may bend or break. In addition, the stitching may be uneven or puckered or there may be skipped stitches.

top
Checking the needle
Only use sewing machine needles for home use. Other needles may bend or break and cause injury.

Never sew with a bent needle. A bent needle will easily break and cause injury.
Sewing with a bent needle is extremely dangerous since the needle may break while the machine is being operated
Before using the needle, place the flat side of the needle on a flat surface and check that the distance between the needle and the flat surface is even.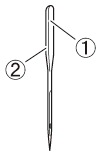 (1) Flat side (2) Needle type marking
- Correct needle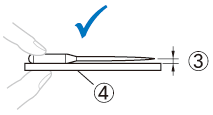 (3) Parallel space (4) Flat surface
- Incorrect needle
If the distance between the needle and the flat surface is not even, the needle is bent. Do not use a bent needle.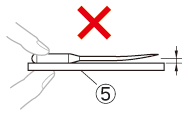 (5) Flat surface

top