Refer to the following:
With some P-touch models (not specifically designed for 3.5 mm tapes), even with the smallest character size specified, the printed text may extend off the width of the tape. In this case, the 3.5 mm tape cannot be used.

Depending on the font, character size, and character style, the printed text may extend off the edge of the tape. In addition, do not print frames or multiple lines of text.

Depending on the environmental conditions and the material that the tape is attached to, the tape may become discolored, peel off, leave a residue after being removed, discolor or damage the surface that it was attached to, or become difficult to remove. Test the tape on an inconspicuous area of the intended surface before attaching the label.

Do not affix the tape to skin.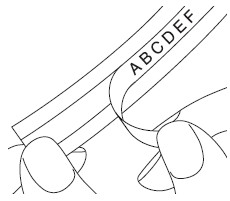 The operating procedure differs depending on the model being used. Be sure to also follow the procedures described in the User's Guide for that particular P-touch model.
<When used with a P-touch>
Models compatible with 3.5 mm (9/64") tape cassettes --- Use this tape cassette as described in the manual for the P-touch.
<When used with P-touch Editor>
Select a character height of 2.5 mm (0.09", 7 points) or less, and adjust the text so that it is aligned at the center of the tape.
<When used with P-touch Quick Editor ver. 2.0>
Select the smallest character size.