QL-650TD
| | |
| --- | --- |
| | FAQs & Troubleshooting |
How do I transfer label or slip templates?
Transfer the template to your printer with one of the following methods.
Method
Transfer Manager
(via USB)
BRAdmin Professional
(via network)
P-touch
Transfer Express
(via USB)
Transferring templates from the computer to the printer via USB
Transferring templates to the printer via network
Transferring the Transfer Package file to the printer
Model
Windows
Mac
Windows only
Windows only
PT-1650
PT-7600
PT-9600
PT-9700PC
PT-9800PCN
PT-D600
PT-E550W
QL-580N
QL-650TD
QL-720NW
QL-1050
QL-1060N
QL-1100
QL-1110NWB
RJ-2030
RJ-2050
RJ-2140
RJ-2150
RJ-3050 / 3050Ai
RJ-3150 / 3150Ai
RJ-3230B
RJ-3250WB
RJ-4030
RJ-4040
RJ-4230B
RJ-4250WB
TD-2020
TD-2120N
TD-2130N
TD-4000
TD-4100N
TD-4410D
TD-4420DN
TD-4520DN
TD-4550DNWB
MW-145BT
MW-260
PJ-623
PJ-663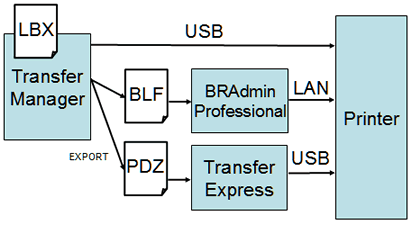 For the detail, please refer to the Related FAQs below. (FAQs compatible with your model are described below.)
If your question was not answered, have you checked other FAQs?
Have you checked manuals?
If you need further assistance, please contact Brother customer service:
Content Feedback
To help us improve our support, please provide your feedback below.