HL-2040
| | |
| --- | --- |
| | FAQs & Troubleshooting |
Some characters are missing when printing PDF files from Adobe® Acrobat® / Adobe® Acrobat® Reader® / Adobe® Reader®. What can I do to correct this?
This issue will occur if the application does not contain the fonts that are in the document.
To solve this issue, print the PDF file as an image.
From the application, select File => Print, and then click Advanced.
Check the Print as image option.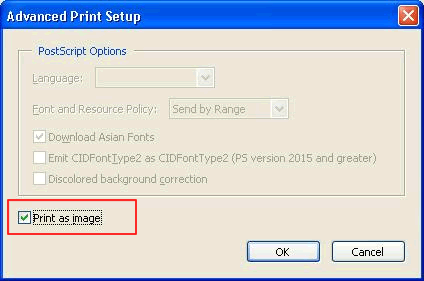 Click OK to close the Advanced Print Setup dialog box, and then click OK.
Updating to the latest version of Adobe® Acrobat® / Adobe® Acrobat® Reader® / Adobe® Reader® may also correct this problem. Visit the Adobe web site to download the latest version for free.
If your question was not answered, have you checked other FAQs?
Have you checked the manuals?
If you need further assistance, please contact Brother customer service:
Related Models
DCP-135C, DCP-145C, DCP-1610W, DCP-165C, DCP-195C, DCP-350C, DCP-375CW, DCP-385C, DCP-560CN, DCP-585CW, DCP-6690CW, DCP-7010, DCP-7010L, DCP-7025, DCP-7030, DCP-7045N, DCP-7055, DCP-7065DN, DCP-8060, DCP-8065DN, DCP-8070D, DCP-9010CN, DCP-9040CN, DCP-J105, DCP-J125, DCP-J140W, DCP-L3551CDW, DCP-T220, DCP-T300, DCP-T310, DCP-T420W, DCP-T500W, DCP-T510W, DCP-T520W, DCP-T710W, DCP-T720DW, DCP-T820DW, FAX-2840, FAX-2920, HL-1210W, HL-2030, HL-2035, HL-2040, HL-2070N, HL-2130, HL-2140, HL-2150N, HL-2240D, HL-2270DW, HL-3040CN, HL-3150CDN, HL-3170CDW, HL-4150CDN, HL-4570CDW, HL-6050DN, HL-7050, HL-L2365DW, HL-L3210CW, HL-L5000D, HL-L5200DW, HL-L6400DW, HL-L8350CDW, HL-L8360CDW, MFC-1910W, MFC-235C, MFC-250C, MFC-255CW, MFC-465CN, MFC-490CW, MFC-5860CN, MFC-6490CW, MFC-7225N, MFC-7320, MFC-7360, MFC-7420, MFC-7440N, MFC-7820N, MFC-7860DW, MFC-795CW, MFC-8220, MFC-8370DN, MFC-8380DN, MFC-8460N, MFC-8510DN, MFC-8860DN, MFC-8880DN, MFC-8910DW, MFC-8950DW, MFC-9120CN, MFC-9140CDN, MFC-9320CW, MFC-9330CDW, MFC-9440CN, MFC-9460CDN, MFC-9840CDW, MFC-990CW, MFC-9970CDW, MFC-J200, MFC-J220, MFC-J2320, MFC-J2330DW, MFC-J2720, MFC-J2730DW, MFC-J3520, MFC-J3530DW, MFC-J3720, MFC-J3930DW, MFC-J6510DW, MFC-L2700DW, MFC-L2740DW, MFC-L3750CDW, MFC-L5700DN, MFC-L5900DW, MFC-L6900DW, MFC-L8600CDW, MFC-L8690CDW, MFC-L8850CDW, MFC-L9570CDW, MFC-T910DW, MFC-T920DW
Content Feedback
To help us improve our support, please provide your feedback below.