AS1430S
| | |
| --- | --- |
| | FAQs & Troubleshooting |
How to use the Cording Foot. (Optional accessory : SA110 / F013N, SA148 / F024N, SA157 / F019N, SA158 / F020N) [Video instructions]
Embellish clothing and household linens with decorative threads.
Video instructions for Cording Foot.
Click on the image to play the video instructions.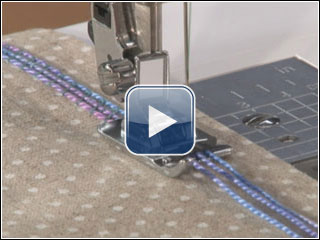 * This movie is being streamed from YouTube. (Opening new window.)
>> For details, please refer to the operation manual.

SA110 / F013N (3 hole)

SA148 / F024N (3 hole)

SA157 / F019N (5 hole)

SA158 / F020N (7 hole)
If your question was not answered, have you checked other FAQs?
Have you checked the manuals?
If you need further assistance, please contact Brother customer service:
Related Models
AS1430S, FS155, FS60X, FS70, GS2700, GS3700, Innov-is 1200, Innov-is 1500D/1500, Innov-is 15P, Innov-is 400, Innov-is 4000D/4000, Innov-is 55P, Innov-is 980K, Innov-is A150, Innov-is A16, Innov-is F420, Innov-is I / Innov-is 6000D, Innov-is Ie, Innov-is NV180, Innov-is NV1800Q, Innov-is NV2600, Innov-is NV2700, Innov-is V7, Innov-is XP1, Innov-is XV, JS1410, LS-2125/2160, LX27NT, NX-400Q/400, PS-53/55/57, XT37
Content Feedback
To help us improve our support, please provide your feedback below.