MFC-J5620DW
| | |
| --- | --- |
| | FAQs & Troubleshooting |
Wrong Ink Color
An ink cartridge has been installed in the wrong position.
Check which ink cartridges are not matched by color to their ink cartridge positions and move them to their proper positions as shown in the diagram below.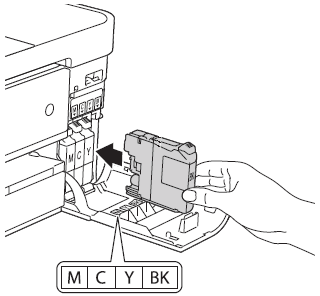 If your question was not answered, have you checked other FAQs?
Have you checked the manuals?
If you need further assistance, please contact Brother customer service:
Related Models
DCP-J100, DCP-J105, DCP-J152W, MFC-J1205W, MFC-J1215W, MFC-J200, MFC-J245, MFC-J285DW, MFC-J4310DW, MFC-J4320DW, MFC-J4335DW, MFC-J4410DW, MFC-J4420DW, MFC-J450DW, MFC-J4510DW, MFC-J4535DW, MFC-J460DW, MFC-J4610DW, MFC-J4620DW, MFC-J470DW, MFC-J4710DW, MFC-J475DW, MFC-J480DW, MFC-J485DW, MFC-J491DW, MFC-J497DW, MFC-J5520DW, MFC-J5620DW, MFC-J5720DW, MFC-J5920DW, MFC-J650DW, MFC-J6520DW, MFC-J6720DW, MFC-J680DW, MFC-J690DW, MFC-J6920DW, MFC-J6925DW, MFC-J775DW(XL), MFC-J815DW XL, MFC-J870DW, MFC-J875DW, MFC-J880DW, MFC-J885DW, MFC-J895DW, MFC-J985DW(XL), MFC-J995DW(XL)
Content Feedback
To help us improve our support, please provide your feedback below.