HL-5470DW
| | |
| --- | --- |
| | FAQs & Troubleshooting |
Create or view a XML Paper Specification document
To create or view a XML Paper Specification document you will need the Microsoft® XPS Document Writer or XPS Document Viewer that comes with Windows Vista or later.

For additional information, please visit the following Microsoft® page:
http://www.microsoft.com/whdc/xps/xpsusers.mspx
You will find "Microsoft XPS Document Writer" in "Printers".

Open the file you want to convert into the XML Paper Specification format and choose "Microsoft XPS Document Writer" as a printer, and click on "Print".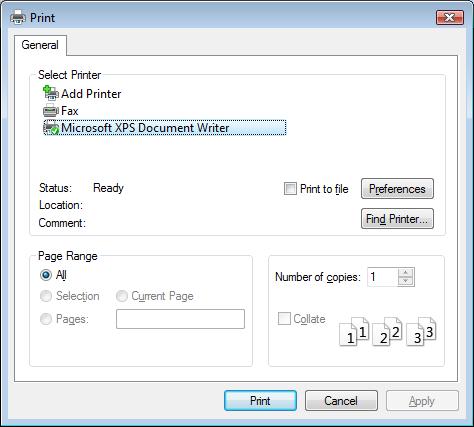 Or, in some application, you can also save a document in XML Paper Specification format without using the Microsoft® XPS Document Writer.

If your question was not answered, have you checked other FAQs?
Have you checked the manuals?
If you need further assistance, please contact Brother customer service:
Related Models
DCP-165C, DCP-350C, DCP-375CW, DCP-385C, DCP-395CN, DCP-585CW, DCP-9040CN, DCP-9045CDN, DCP-J100, DCP-J105, DCP-J125, DCP-J140W, DCP-J152W, DCP-T300, DCP-T500W, DCP-T700W, HL-2130, HL-2135W, HL-2140, HL-2170W, HL-2220, HL-2230, HL-2240, HL-2240D, HL-2270DW, HL-2275DW, HL-3040CN, HL-3045CN, HL-3070CW, HL-3075CW, HL-4040CDN, HL-4040CN, HL-4050CDN, HL-4070CDW, HL-4150CDN, HL-4570CDW, HL-4570CDWT, HL-5440D, HL-5450DN, HL-5452DN, HL-5470DW, HL-5470DWT, HL-5472DW, HL-5472DWT, HL-6180DW, HL-6180DWT, HL-6182DW, HL-6182DWT, MFC-230C, MFC-250C, MFC-255CW, MFC-290C, MFC-295CN, MFC-465CN, MFC-490CW, MFC-495CW, MFC-5490CN, MFC-5890CN, MFC-5895CW, MFC-6490CW, MFC-685CW, MFC-6890CDW, MFC-790CW, MFC-795CW, MFC-885CW, MFC-9010CN, MFC-9120CN, MFC-9125CN, MFC-9320CW, MFC-9325CW, MFC-9440CN, MFC-9450CDN, MFC-9460CDN, MFC-9560CDW, MFC-9840CDW, MFC-990CW, MFC-9970CDW, MFC-J200, MFC-J220, MFC-J245, MFC-J265W, MFC-J270W, MFC-J280W, MFC-J285DW, MFC-J410, MFC-J410W, MFC-J415W, MFC-J425W, MFC-J430W, MFC-J4310DW, MFC-J435W, MFC-J4410DW, MFC-J450DW, MFC-J4510DW, MFC-J460DW, MFC-J4610DW, MFC-J470DW, MFC-J4710DW, MFC-J475DW, MFC-J480DW, MFC-J485DW, MFC-J5910DW, MFC-J615W, MFC-J625DW, MFC-J630W, MFC-J650DW, MFC-J680DW, MFC-J825DW, MFC-J835DW, MFC-J870DW, MFC-J875DW, MFC-J880DW, MFC-J885DW, MFC-J985DW(XL), MFC-T800W
Content Feedback
To help us improve our support, please provide your feedback below.