HL-5470DW
| | |
| --- | --- |
| | FAQs & Troubleshooting |
I'm using the BR-Script3 driver, and my Brother machine does not print my document with the Booklet option I selected in Adobe® Acrobat®/ Adobe® Reader®.
This issue is caused by the print data created by the application or your OS.
Please follow the steps below to solve the problem.


Choose Print from the File menu of Adobe® Acrobat®/ Adobe® Reader®.

Click Advanced.



Check Print as Image box and click OK.



Click Properties.
Print the document with the Booklet option.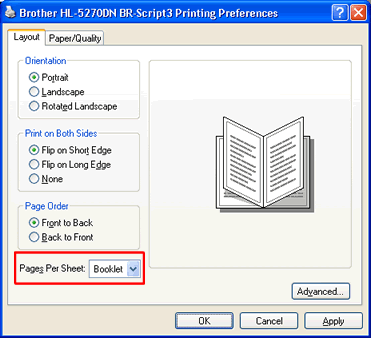 If your question was not answered, have you checked other FAQs?
Have you checked the manuals?
If you need further assistance, please contact Brother customer service:
Related Models
DCP-8025D, DCP-8045D, DCP-8065DN, DCP-8070D, DCP-8080DN, DCP-8085DN, DCP-8110DN, DCP-8112DN, DCP-8150DN, DCP-8152DN, DCP-8155DN, DCP-8157DN, DCP-9045CDN, HL-1650, HL-1670N, HL-1870N, HL-2600CN, HL-2700CN, HL-4000CN, HL-4150CDN, HL-4200CN, HL-4570CDW, HL-4570CDWT, HL-5150D, HL-5170DN, HL-5250DN, HL-5280DW, HL-5340D, HL-5350DN, HL-5370DW/HL-5370DWT, HL-5440D, HL-5450DN, HL-5452DN, HL-5470DW, HL-5470DWT, HL-5472DW, HL-5472DWT, HL-6050D, HL-6050DN, HL-6180DW, HL-6180DWT, HL-6182DW, HL-6182DWT, HL-7050, HL-7050N, HL-8050N, MFC-8480DN, MFC-8510DN, MFC-8512DN, MFC-8660DN, MFC-8680DN, MFC-8690DW, MFC-8710DW, MFC-8712DW, MFC-8810DW, MFC-8820D, MFC-8820DN, MFC-8840D, MFC-8840DN, MFC-8860DN, MFC-8870DW, MFC-8890DW, MFC-8910DW, MFC-8912DW, MFC-8950DW, MFC-8950DWT, MFC-8952DW, MFC-8952DWT, MFC-9450CDN, MFC-9460CDN, MFC-9560CDW, MFC-9840CDW, MFC-9970CDW
Content Feedback
To help us improve our support, please provide your feedback below.