MFC-J775DW(XL)
| | |
| --- | --- |
| | FAQs & Troubleshooting |
Protect your Brother machine against unauthorised access over the network
1. Change your Brother machine's default password to make it more secure
Brother strongly recommend you change the default login password to protect your machine from unauthorised access.
The default login password to manage machine settings is either:
the password located on the back or bottom of the machine preceded by "Pwd"
OR
initpass
Depending on your model, you may also check the default password by printing the Network Configuration Report.
You can set a password following the steps below:

NOTE: The screens may differ depending on operating system being used and your Brother machine.
Run BRAdmin Light installed on your PC. If you are not installing the BRAdmin Light, go to Downloads section and install it.

(Windows 7 / Windows 10 / Windows 11)
Click Start or or (Start button) => (All Programs or All apps =>) Brother => BRAdmin Light => BRAdmin Light.

(Windows 8)

On the Start screen, click .
If is not on the Start screen, right-click somewhere on an empty spot, and then click, All Apps from the bar.
Click BRAdmin Light.

BRAdmin Light will search for new devices automatically.

Select your Brother machine from the list and double click on it.



When prompted, enter your password and then click OK.
If you have not previously set your own password, type the default login password above.

Open the Control tab and click Configure Password.



Enter and confirm new password and click OK.



Click OK.
2. Keep your Brother machine's firmware up to date
Brother regularly improve the security of our products. We strongly recommend that you always update the firmware to the latest version using the Firmware Update Tool.
> Click here to download the Firmware Update Tool from your model's Downloads section.
3. Protect your Brother machine against unauthorised access over the network
Check the following points to protect your Brother machine against unauthorised access over the network:
Make sure you use a router or firewall when connecting your Brother machine to the Internet as shown below:



Your Brother machine should be protected from any unauthorised access if you use an Internet Service Provider and have a private IP address on your Brother machine. To check if your Brother machine is using a private IP address:


Print the "Network Configuration(Network Config) Report".
> Click here to see how to print the report.
Check that the IP address printed on the report is within the following range:

If your machine's IP address is not within the range listed above, contact your network administrator or Internet Service Provider and request a correct one. You can then use the correct IP address to set the machine up again.
4. Remove any USB flash drives and memory cards from the Brother machine after use
This feature is available only for some models.
Illustrations shown below are from a representative product and may differ from your Brother machine.
If your Brother machine is connected to a computer via network, anybody can use the computer to access a USB flash drive or memory card inserted in the machine. If multiple users are using your Brother machine, we do not recommend leaving any USB flash drives or memory cards inserted. Remove the USB flash drive and memory card every time you have finished using them.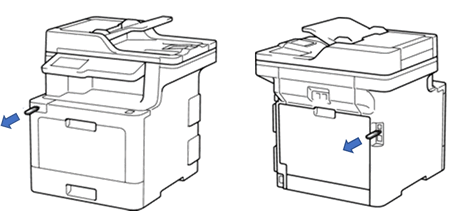 If your question was not answered, have you checked other FAQs?
Have you checked the manuals?
If you need further assistance, please contact Brother customer service:
Content Feedback
To help us improve our support, please provide your feedback below.