MFC-9840CDW
| | |
| --- | --- |
| | FAQs & Troubleshooting |
I'm using Mac OS X 10.5. When I install the drivers from the CD-ROM supplied with the machine, the message "The application LOGINserver quit unexpectedly" appears. What should I do?
This error message may appear, when you install the scanner driver from the CD-ROM supplied with your machine but it did not include drivers for Mac OS X 10.5.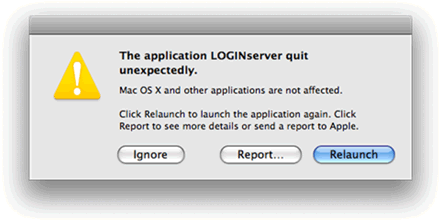 The scanner drivers from the supplied CD-ROM are not compatible with Mac OS X 10.5.
Please go to the Downloads section of the Brother Solutions Center for your model to download the Mac OS X 10.5 compatible scanner drivers.


Please click the links below for Mac OS X 10.5 additional support information.
for users in US/Canada/Latin America
for users in Europe
for users in Asia/Oceania


The installed drivers do not need to be uninstalled before installing the Mac OS X 10.5 compatible scanner drivers.
If your question was not answered, have you checked other FAQs?
Have you checked the manuals?
If you need further assistance, please contact Brother customer service:
Related Models
DCP-1000, DCP-110C, DCP-120C, DCP-130C, DCP-1400, DCP-330C, DCP-350C, DCP-7020, DCP-8020, DCP-8025D, DCP-8040, DCP-8045D, DCP-8060, DCP-8065DN, DCP-9040CN, DCP-9045CDN, FAX-2440C, FAX-2480C, FAX-2580C, MFC-210C, MFC-230C, MFC-240C, MFC-3100C, MFC-3200C, MFC-3220C, MFC-3240C, MFC-3320CN, MFC-3340CN, MFC-3360C, MFC-3420C, MFC-3820CN, MFC-420CN, MFC-440CN, MFC-4420C, MFC-465CN, MFC-4800, MFC-4820C, MFC-5100C, MFC-5200C, MFC-5440CN, MFC-5460CN, MFC-5840CN, MFC-5860CN, MFC-620CN, MFC-640CW, MFC-665CW, MFC-6800, MFC-685CW, MFC-7220, MFC-7225N, MFC-7420, MFC-7820N, MFC-820CW, MFC-8220, MFC-8420, MFC-8440, MFC-845CW, MFC-8460N, MFC-8500, MFC-8640D, MFC-8660DN, MFC-8670DN, MFC-8820D, MFC-8820DN, MFC-8840D, MFC-8840DN, MFC-885CW, MFC-8860DN, MFC-8870DW, MFC-9420CN, MFC-9440CN, MFC-9700, MFC-9800, MFC-9840CDW
Content Feedback
To help us improve our support, please provide your feedback below.