MFC-4800
| | |
| --- | --- |
| | FAQs & Troubleshooting |
I am using Windows XP. I downloaded the WHQL certified driver for USB from the Web. How do I install it?
(Only for Printer/MFC/DCP users)
Remove Software Suite CD-ROM before starting the installation procedure.
Once the driver file has been downloaded from the Brother Solutions Center web site, you must decompress it. To do that, create a folder on your PC hard disc and then copy the driver file to that folder.

Now double click the file and the files will be extracted to the folder you created.

Connect the machine to your Windows XP computer and the "New Hardware Wizard" should automatically start. If it doesn't, reboot your Windows XP PC and the "New Hardware Wizard" should start.
At this point follow the steps below (the model name shown is for illustration purposes only.)
Select "Install from a list or specific location (Advanced)" and click "Next".

Click the "Include this location in the search:" option and then click the browse button and specify the location of the XP driver that you downloaded from this web site. Make sure your CD-ROM drive is empty before clicking "Next".
Click the "Next" button when you have correctly specified the location of the driver.

From here the driver is installed automatically. Please wait until the installation is completed.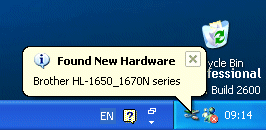 If your question was not answered, have you checked other FAQs?
Have you checked the manuals?
If you need further assistance, please contact Brother customer service:
Related Models
DCP-1000, DCP-110C, DCP-120C, DCP-1400, DCP-7020, DCP-8020, DCP-8025D, FAX-1800C, FAX-1820C, FAX-1840C, FAX-1920CN, FAX-1940CN, FAX-2440C, FAX-2820, FAX-2900, FAX-2920, FAX-3800, FAX-4100/FAX-4100e, FAX-4750e, FAX-5750e, MFC-210C, MFC-3100C, MFC-3200C, MFC-3220C, MFC-3240C, MFC-3320CN, MFC-3340CN, MFC-3420C, MFC-3820CN, MFC-420CN, MFC-4420C, MFC-4800, MFC-4820C, MFC-5100C, MFC-5200C, MFC-5440CN, MFC-5840CN, MFC-620CN, MFC-640CW, MFC-6800, MFC-7220, MFC-7225N, MFC-7420, MFC-7820N, MFC-820CW, MFC-8420, MFC-8500, MFC-8820D, MFC-8820DN, MFC-9700, MFC-9800
Content Feedback
To help us improve our support, please provide your feedback below.