HL-4000CN
| | |
| --- | --- |
| | FAQs & Troubleshooting |
Replace the toner cartridge.
Do NOT use flammable substances or any type of spray to clean the inside or outside of the machine. Doing this may cause a fire or electrical shock.


For the order number (Order No.) of the toner cartridge, please refer to the User's guide provided with your Brother Printer or the Consumables & Options page of your model on Brother Solutions Center. To visit Consumables & Options page, click your model name link (e.g. HL-XXXX * ) on the top section and then click "Consumables & Options" link on the opened page. * XXXX stands for your model name.
The Brother machine has separate consumables the toner cartridge and the drum unit. Verify you replace only the Toner Cartridge and not the drum unit. If you want to know their difference, refer to "What is the difference between the toner cartridge and the drum unit?"
Follow the procedure below to replace toner cartridges.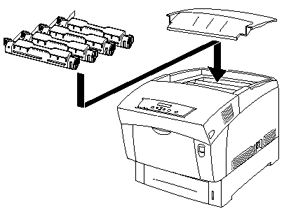 Remove the top cover and place it on a flat surface.

Grip the levers at the ends of the toner cartridge that you want to replace and pull them up.

Pull out the toner cartridge.



Put the toner cartridge onto a piece of paper to prevent the toner from staining the floor or furniture.
To prevent residual toner form spilling, avoid shaking or bumping used toner cartridges.

Select the new toner cartridge that is being replaced, and remove it from it's packaging.

Shake the toner cartridge 7 or 8 times as illustrated to distribute toner evenly.

Align the toner cartridge with the corresponding insertion point in the printer and insert it as illustrated.

Grip the levers at each end of the toner cartridge with your fingers, then push down firmly to rotate the levers forward to the keymark position.

Pull the toner seal straight up to remove it.



Pull the toner seal straight up. Pulling the toner seal diagonally may tear the seal.

If it takes more than five seconds until you remove the toner seal after inserting the toner cartridge in the printer, an error message may appear. In this case, perform step 7 again, or turn the printer off once and then on again.


Replace the top cover.
If your question was not answered, have you checked other FAQs?
Have you checked the manuals?
If you need further assistance, please contact Brother customer service:
Content Feedback
To help us improve our support, please provide your feedback below.