HL-4000CN
| | |
| --- | --- |
| | FAQs & Troubleshooting |
I'm trying to feed the paper from the Paper Tray. "Feed Jam Check Tray" error appears on the LCD. What should I do?
If the Optional Tray Module is not installed, follow the procedure below to remove paper jammed in the paper tray.

If the Optional Tray Module is installed, look for the jammed paper sequentially, starting with the lowest tray. To see how to clear the jam, click here.
Slowly, completely remove the paper tray from the printer.

Remove all the jammed and/or creased paper from the tray.

If there is jammed paper remaining inside the printer, pull it out carefully to avoid tearing it.

Push up button A (1) and fully open the front cover (2). Confirm that there are no scraps of paper remaining inside the printer.

Close the front cover.

Hold the paper tray with both hands, align it with the opening in the printer and gently push it back in the printer.

Push the paper tray completely back into the printer.

Do not use excessive force on the paper tray. Doing so could damage the paper tray or the inside of the printer.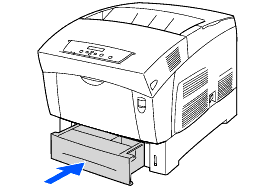 If your question was not answered, have you checked other FAQs?
Have you checked the manuals?
If you need further assistance, please contact Brother customer service:
Content Feedback
To help us improve our support, please provide your feedback below.