HE-240
| | |
| --- | --- |
| | FAQs & Troubleshooting |
How do I save often-used patterns in the machine's memory?
The embroidery patterns and the alphabet characters you have customized can be saved in the sewing machine's memory.
Since the saved patterns will not be erased when the power is turned off, you can always retrieve them for embroidery.
This is convenient for saving names and the like.
You can save up to 12 patterns or 512KB of data.
----- Saving a pattern -----
After selecting the pattern to be saved, press

(Memory key).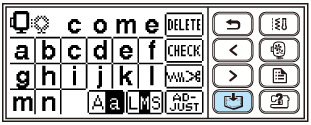 "Saving..." appears while the pattern is being saved.
After the pattern is saved, the initialscreen appears again.
Do not turn off the sewing machine while the pattern is being saved, otherwise the pattern data may be lost.
----- Retrieving a pattern -----
Press (Retrieve key).

The saved patterns are displayed.

Select the pattern you wish to retrieve.
Switch screens using (Previous page key) and (Next page key).

The selected pattern is shown in reverse highlighting.

Total amount of memory used

Total amount of memory space

Number of the currently displayed page from the total number of page

Press (Retrieve key).

The saved pattern is retrieved.
The sewing screen appears, and you can embroider the retrieved pattern.

To delete the saved pattern, press (Delete key).
If your question was not answered, have you checked other FAQs?
Have you checked the manuals?
If you need further assistance, please contact Brother customer service:
Content Feedback
To help us improve our support, please provide your feedback below.