CM650W
| | |
| --- | --- |
| | FAQs & Troubleshooting |
About CanvasWorkspace
CanvasWorkspace is an application that allows you to create and edit cutting or drawing pattern.
This allows you to edit the pattern data without an Internet connection.
Getting Started
Install CanvasWorkspace.
Click here to go to download page.



Create an account and log In.
Start CanvasWorkspace, and then create an account for CanvasWorkspace.
For details on how to create an account, refer to How to create an account for CanvasWorkspace.




If you already have an account for "CanvasWorkspace" (formerly ScanNCutCanvas), you can use that ID and password.



Edit the Data on CanvasWorkspace.





Transfer Data to the Machine.
Send the edited FCM data to the cutting machine.



Cut or draw the pattern with the machine.
Using the Main Screen
The pattern data can be edited in the CanvasWorkspace screen as shown below.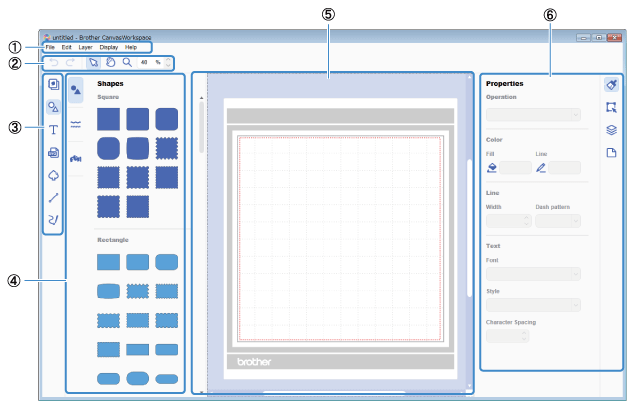 1. Menu Bar
Area that contains basic menus for performing operations in this application
2. Tool Bar
Area that displays a menu for editing objects
3. Object Mode Bar
Canvas Project / Pattern Collection
Display/hide a window including contents
Shapes
Allows selected shapes to be added to the drawing area
Text
Allows text to be added to the drawing area
Import from Your Computer
Allows shapes in FCM / SVG / DXF file or image from JPG / GIF / BMP / PNG file to be added to the drawing area
Image Tracing
Traces an image to create cutting lines
Path
Allows straight lines to be added to the drawing area
Freehand Path
Allows lines drawn freehand to be added to the drawing area
4. Object Panel
Shapes
Allows the selected shape to be added to the drawing area
B orders
Allows the selected border to be added to the drawing area
Words
Allows the selected word to be added to the drawing area
5. Drawing area
Area where objects are editedArea where objects are edited
6. Control Area

Properties

Properties
Edit setting information of the selected object
Edit
Edit the outline of the selected object
Layer
Edit objects by grouping them or adjusting their display order: objects that are overlapping can be displayed/hidden or locked/unlocked.
Artboard
Adjust the background mat: the grid can be displayed or hidden.
For details on transfering the FCM file to your cutting machine, refer to Instructions for sending patterns created in CanvasWorkspace to the cutting machine for cutting or drawing.

Precautions for transferring data to the machine

CanvasWorkspace can save files in the following file formats.
CWPRJ format
Editing information for CanvasWorkspace is saved with this file format.
The machine cannot read this data.

FCM format
The machine can directly read data in this file format.
Save the data in this format when transfer data to the machine.
Files in the following three formats can be imported into CanvasWorkspace.
CWPRJ format
FCM format
SVG format (Scalable Vector Graphics: vector image format for describing two-dimensional graphics format)
DXF format (Drawing Exchange Format: vector image format used by CAD software) *
*up to Release 14 format
If your question was not answered, have you checked other FAQs?
Have you checked the manuals?
If you need further assistance, please contact Brother customer service:
Content Feedback
To help us improve our support, please provide your feedback below.