PT-E550W
| | |
| --- | --- |
| | FAQs & Troubleshooting |
How to create a barcode from two data fields (P-touch Editor 5.x for Windows)
For TD-4T/TJ-4T series:
To use P-touch Editor, download and install "Printer Driver for P-touch Editor" from the [Downloads] section of this website.
To create a barcode from two data fields, do the following:
This example shows how to create a barcode from the "item number" and "number of pieces" fields in a database.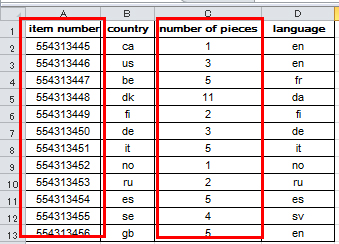 Start P-touch Editor and select the "Professional" mode.



Click [File] - [Database] - [Connect].


Click [Browse] in the [Open Database] window, select the database file, and click [Next.].



Select the sheet you want and click [Next].



Click the Database area (highlighted in red in the image below).



The [Database] menu appears. Click [Database] - [Connect Fields].



The [Define Joined Fields] window appears. Click [Add].



The [Add a Joined Field] window appears.
From the [Fields] list, select and add the fields in the order you want.
For this example, first select [item number] and click [Add], and then repeat this step for [number of pieces].
Click [OK] and then [Close].



Click the label area (highlighted in red in the image below).



Click [Insert] - [Database Field].



The [Merge Field] window appears. Select [Bar Code] as the Merge Type.
From the [Database Fields That Can Be Merged] drop-down list, select the fields you added in Step 8 (in this example, [item number] [number of pieces]), and then click [OK].



A preview of the barcode appears in the label area.
Click the item you want to print in the database area. The preview changes to your desired barcode.
You can now print your barcode.

If your question was not answered, have you checked other FAQs?
Have you checked manuals?
If you need further assistance, please contact Brother customer service:
Related Models
MW-100, MW-120, MW-140BT, MW-145BT, MW-145MFi, MW-260, MW-260MFi, PJ-623, PJ-663, PJ-722, PJ-723, PJ-762, PJ-763, PJ-763MFi, PJ-773, PJ-822, PJ-823, PJ-862, PJ-863, PJ-883, PT-1230PC, PT-1650, PT-18R, PT-18RKT, PT-1950, PT-1960, PT-2100, PT-2110, PT-2430PC, PT-2600, PT-2610, PT-2700, PT-2710, PT-2730, PT-3600, PT-7600, PT-9500PC, PT-9600, PT-9700PC, PT-9800PCN, PT-D450, PT-D600, PT-D800W, PT-E500, PT-E550W, PT-E800W, PT-H500, PT-P700, PT-P710BT, PT-P715eBT, PT-P750W, PT-P900/P900c, PT-P900W/P900Wc, PT-P910BT, PT-P950NW, QL-1050, QL-1050N, QL-1060N, QL-1100/1100c, QL-1110NWB/1110NWBc, QL-500, QL-550, QL-570, QL-570VM, QL-580N, QL-600, QL-650TD, QL-700, QL-710W, QL-720NW, QL-800, QL-810W/810Wc, QL-820NWB/820NWBc, RJ-2030, RJ-2050, RJ-2140, RJ-2150, RJ-3050, RJ-3050Ai, RJ-3150, RJ-3150Ai, RJ-3230B, RJ-3250WB, RJ-4030, RJ-4030Ai, RJ-4040, RJ-4230B, RJ-4250WB, TD-2020/2020A, TD-2120N, TD-2125N, TD-2125NWB, TD-2130N, TD-2135N, TD-2135NWB, TD-4000, TD-4100N, TD-4210D, TD-4410D, TD-4420DN, TD-4420TN, TD-4520DN, TD-4520TN, TD-4550DNWB, TD-4650TNWB, TD-4750TNWB, TJ-4010TN, TJ-4020TN, TJ-4021TN, TJ-4120TN, TJ-4121TN, TJ-4420TN, TJ-4422TN, TJ-4520TN, TJ-4522TN, TJ-4620TN, TP-M5000N
Content Feedback
To help us improve our support, please provide your feedback below.