BM-3500/2600
| | |
| --- | --- |
| | FAQs & Troubleshooting |
How to use the Edge Joining Foot. (Optional accessory : SA184 / F056) [Video instructions]
This Edge Joining Foot is used to easily join two pieces of fabric or attach lace or trim. It is also used for narrow edge stitching and pintucks. The middle metal guide keeps pieces perfectly aligned while joining.
Video instructions for Edge Joining Foot.
Click on the image to play the video instructions.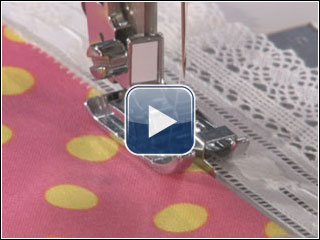 * This movie is being streamed from YouTube. (Opening new window.)
>> For details, please refer to the operation manual.

SA184 / F056
If your question was not answered, have you checked other FAQs?
Have you checked the manuals?
If you need further assistance, please contact Brother customer service:
Related Models
AS1430S, AS2730S, BC-2100/BC-2100PRW, BM-3500/2600, DS-140, FS101, FS50, FS60X, GS2700, GS2786K, GS3700P, Innov-is 1500D/1500, Innov-is 50, Innov-is 55P, Innov-is 950, Innov-is 980D, Innov-is 980K, Innov-is A80, Innov-is NV180, Innov-is NV180D, Innov-is NV180K, JS1410, NX-400Q/400, NX-600, QC-1000
Content Feedback
To help us improve our support, please provide your feedback below.