DCP-J315W
| | |
| --- | --- |
| | FAQs & Troubleshooting |
"Scan to E-mail" defaults to Microsoft® Outlook Express. How can I change it to Microsoft® Outlook?
Follow the instructions below to configure and use the "Scan to E-mail" feature.

Open the "ControlCenter" by clicking start-> (All) Programs ->Brother-> [model name]-> ControlCenter.
The "ControlCenter" application will be loaded in the Task Tray near the system clock. (It appears as a blue square.)



Double-click on the "ControlCenter" icon located in the Task Tray to launch the program window.


<Modern user interface>

<Classic user interface>




Click on Configuration -> SCAN -> E-mail

The "Scan to E-mail" configuration window will appear. You can change your email application from the E-mail Application box.



Change the setting both in the Software Button tab and the Device Button tab.

If you cannot find Outlook in the E-mail Application box, or you get the error "the command line argument is not valid...", please update the version of your ControlCenter. Please go to the Downloads section and you will find the ControlCenter2 Update Tool or ControlCenter3 Update Tool under Utilities category.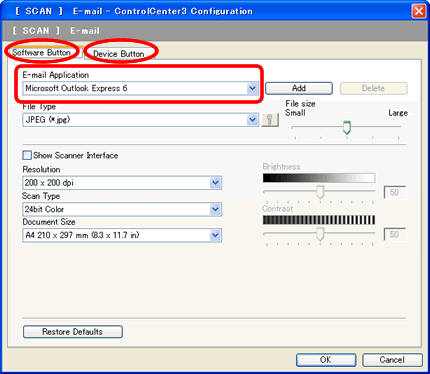 If your question was not answered, have you checked other FAQs?
Have you checked the manuals?
If you need further assistance, please contact Brother customer service:
Related Models
DCP-110C, DCP-115C, DCP-120C, DCP-130C, DCP-135C, DCP-145C, DCP-150C, DCP-155C, DCP-165C, DCP-185C, DCP-195C, DCP-330C, DCP-350C, DCP-375CW, DCP-385C, DCP-395CN, DCP-540CN, DCP-560CN, DCP-585CW, DCP-6690CW, DCP-7010, DCP-7030, DCP-7040, DCP-9040CN, DCP-J125, DCP-J315W, DCP-J715W, MFC-210C, MFC-215C, MFC-235C, MFC-240C, MFC-250C, MFC-255CW, MFC-260C, MFC-265C, MFC-290C, MFC-295CN, MFC-3240C, MFC-3360C, MFC-410CN, MFC-425CN, MFC-440CN, MFC-465CN, MFC-490CW, MFC-5440CN, MFC-5460CN, MFC-5490CN, MFC-5840CN, MFC-5860CN, MFC-5890CN, MFC-620CN, MFC-640CW, MFC-6490CW, MFC-665CW, MFC-685CW, MFC-6890CDW, MFC-7220, MFC-7320, MFC-7340, MFC-7420, MFC-7440N, MFC-7450, MFC-7840N, MFC-790CW, MFC-795CW, MFC-8380DN, MFC-8460N, MFC-8860DN, MFC-8880DN, MFC-9010CN, MFC-9120CN, MFC-9320CW, MFC-9420CN, MFC-9440CN, MFC-9840CDW, MFC-J220, MFC-J265W, MFC-J415W, MFC-J615W
Content Feedback
To help us improve our support, please provide your feedback below.