PJ-763
| | |
| --- | --- |
| | FAQs & Troubleshooting |
Printing from an Android™ device
The following printing methods are available:
Printing with iPrint&Scan (PJ-762/PJ-763/PJ-763MFi/PJ-773 only)
Brother iPrint&Scan allows you to use features of your printer directly from your Android™ device, without using a computer.
Download and install Brother iPrint&Scan from the Google Play™ Store.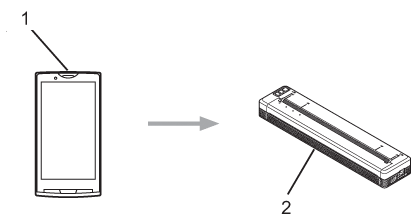 1 Mobile device
2 Your printer
For more information, see the Mobile Print/Scan Guide for Brother iPrint&Scan (Android™).
Scanning is not available for PJ-7 series.

Printing with Mopria™ (PJ-773 only)
Mopria Print Service is a print functionality on Android™ phones and tablets (Android™ version 4.4 or later) developed by the Mopria Alliance. With this service, you can connect to the same network as the printer and print without additional setup. Many native Android™ apps, including Google Chrome™, Gmail™ and Gallery, support printing.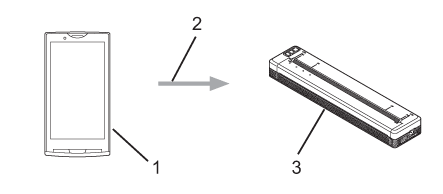 1 Android™ 4.4 or later
2 Wi-Fi® Connection
3 Your printer
Enabling Mopria Print Service

Download the Mopria Plug-in using the Google Play™ Store app and install it on your Android™ device.
From the home screen of your Android™ device, tap .


Tap [Settings].


Tap [Printing].


Tap [Mopria Print Service].


Slide the toggle button to the [ON] position.


Tap [OK].



Printing

Open an app you want to print from, and then tap .
You can print from any apps that have a printing function.


Tap [Print].


Confirm that the displayed printer name is correct, and then tap [Print].

If the desired printer is not displayed, change the printer.
If your question was not answered, have you checked other FAQs?
Have you checked manuals?
If you need further assistance, please contact Brother customer service:
Content Feedback
To help us improve our support, please provide your feedback below.