MFC-5200C
| | |
| --- | --- |
| | FAQs & Troubleshooting |
The message "xxxxxxx.xxx can't be opened because it is from an unidentified developer." appears on OS X v10.8.x. (where xxxxxxx.xxx is the file name.)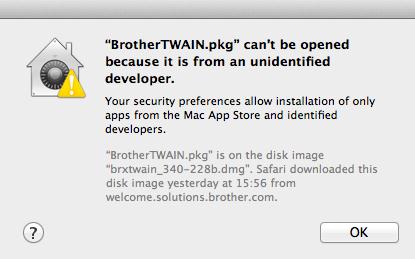 The file name "xxxxxxx.xxx" mentioned in the message varies depending on the software. Examples could be BrotherTWAIN.pkg, BrotherCLDrivers.mpkg, BrotherINK11Drivers.mpkg, BrotherPrinterDrivers.mpkg, BrotherRSP.pkg.
Depending on security preferences on your Mac, you may get the message mentioned above when you try to install or start software. However all the software on the Downloads section on this site have been carefully-evaluated by Brother and are safe for your Mac.
If you get the message, follow the steps below to install or start the software.
Hold down the Control-key and then click the file ("xxxxxxx.pkg", "xxxxxxx.mpkg").

Choose Open.

Click Open to start the software and follow the instructions on the screen.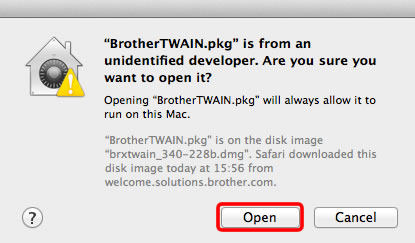 If your question was not answered, have you checked other FAQs?
Have you checked the manuals?
If you need further assistance, please contact Brother customer service:
Related Models
ADS-2100, ADS-2600W, DCP-110C, DCP-115C, DCP-120C, DCP-130C, DCP-150C, DCP-165C, DCP-185C, DCP-195C, DCP-330C, DCP-350C, DCP-385C, DCP-540CN, DCP-560CN, DCP-585CW, DCP-6690CW, DCP-7010, DCP-7055, DCP-7065DN, DCP-8020, DCP-8025D, DCP-8040, DCP-8060, DCP-9040CN, DCP-9055CDN, DCP-J125, DCP-J140W, DCP-J4110DW, FAX-1820C, FAX-1840C, FAX-2820, FAX-2840, FAX-2850, HL-1240, HL-1250, HL-1270N, HL-1430, HL-1440, HL-1450, HL-1470N, HL-1650, HL-1670N, HL-1850, HL-1870N, HL-2040, HL-2070N, HL-2130, HL-2140, HL-2150N, HL-2170W, HL-2240D, HL-2250DN, HL-2270DW, HL-2460, HL-2600CN, HL-2700CN, HL-3040CN, HL-3070CW, HL-3260N, HL-3450CN, HL-4000CN, HL-4040CN, HL-4050CDN, HL-4150CDN, HL-4200CN, HL-4570CDW, HL-5040, HL-5050, HL-5070N, HL-5140, HL-5150D, HL-5170DN, HL-5240, HL-5250DN, HL-5340D, HL-5350DN, HL-5370DW, HL-5380DN, HL-5440D, HL-5450DN, HL-5470DW, HL-6050D, HL-6180DW, HL-7050, HL-7050N, HL-8050N, HL-S7000DN, MFC-210C, MFC-215C, MFC-235C, MFC-240C, MFC-255CW, MFC-260C, MFC-290C, MFC-295CN, MFC-3100C, MFC-3220C, MFC-3240C, MFC-3360C, MFC-3420C, MFC-3820CN, MFC-410CN, MFC-425CN, MFC-440CN, MFC-465CN, MFC-4800, MFC-490CW, MFC-5100C, MFC-5200C, MFC-5440CN, MFC-5840CN, MFC-5860CN, MFC-5890CN, MFC-620CN, MFC-640CW, MFC-6490CW, MFC-665CW, MFC-685CW, MFC-6890CDW, MFC-7220, MFC-7340, MFC-7360N, MFC-7420, MFC-7440N, MFC-7820N, MFC-7840W, MFC-7860DW, MFC-790CW, MFC-795CW, MFC-8220, MFC-8370DN, MFC-8380DN, MFC-8440, MFC-8460N, MFC-8510DN, MFC-8820D, MFC-8840D, MFC-885CW, MFC-8860DN, MFC-8880DN, MFC-8890DW, MFC-8910DW, MFC-8950DW, MFC-9120CN, MFC-9160, MFC-9180, MFC-9320CW, MFC-9420CN, MFC-9440CN, MFC-9450CDN, MFC-9460CDN, MFC-9660, MFC-9840CDW, MFC-9880, MFC-990CW, MFC-9970CDW, MFC-J220, MFC-J265W, MFC-J410, MFC-J415W, MFC-J430W, MFC-J4510DW, MFC-J4710DW, MFC-J5910DW, MFC-J615W, MFC-J625DW, MFC-J6510DW, MFC-J6910DW, MFC-J825DW
Content Feedback
To help us improve our support, please provide your feedback below.