DCP-T310
| | |
| --- | --- |
| | FAQs & Troubleshooting |
When I install the drivers, Norton AntiVirus displays a Security Alert that a medium risk application "xxxxx.exe is attempting to connect to a DNS server".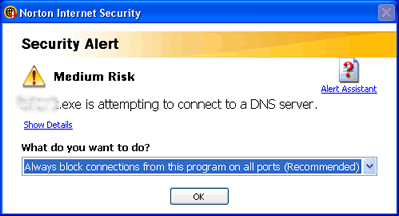 The name of the application file (xxxxx.exe) displayed on an alert window is a Microsoft® file necessary for the driver installation. The file name "xxxxx" will vary depending on how you are installing the driver. It can be "_is*.exe" (* is a variable), "Setup.exe" or "DPInst.exe".
Select Always block connections from this program on all ports (Recommended) and click OK.
If your question was not answered, have you checked other FAQs?
Have you checked the manuals?
If you need further assistance, please contact Brother customer service:
Related Models
DCP-135C, DCP-145C, DCP-150C, DCP-1610W, DCP-165C, DCP-195C, DCP-350C, DCP-560CN, DCP-585CW, DCP-6690CW, DCP-7030, DCP-7040, DCP-7055, DCP-7060D, DCP-9010CN, DCP-9040CN, DCP-9042CDN, DCP-J100, DCP-J105, DCP-J125, DCP-J140W, DCP-J315W, DCP-L2540DW, DCP-L2550DW, DCP-L3551CDW, DCP-T300, DCP-T310, DCP-T500W, DCP-T510W, DCP-T700W, DCP-T710W, FAX-2840, HL-5450DN, HL-6180DW, HL-T4000DW, MFC-1910W, MFC-1915W, MFC-235C, MFC-250C, MFC-255CW, MFC-260C, MFC-290C, MFC-295CN, MFC-490CW, MFC-5890CN, MFC-6490CW, MFC-6890CDW, MFC-7340, MFC-7360, MFC-7450, MFC-7840N, MFC-7840W, MFC-7860DW, MFC-795CW, MFC-8380DN, MFC-8510DN, MFC-885CW, MFC-8880DN, MFC-8910DW, MFC-9120CN, MFC-9140CDN, MFC-9320CW, MFC-9330CDW, MFC-9440CN, MFC-9450CDN, MFC-9840CDW, MFC-9970CDW, MFC-J200, MFC-J2310, MFC-J2320, MFC-J2330DW, MFC-J2510, MFC-J265W, MFC-J2720, MFC-J2730DW, MFC-J3530DW, MFC-J3930DW, MFC-J415W, MFC-J430W, MFC-J5910DW, MFC-J615W, MFC-J625DW, MFC-J6510DW, MFC-J6910DW, MFC-J825DW, MFC-L2700D, MFC-L2700DW, MFC-L2715DW, MFC-L2740DW, MFC-L2770DW, MFC-L3750CDW, MFC-L8690CDW, MFC-L8850CDW, MFC-L8900CDW, MFC-L9550CDW, MFC-T4500DW, MFC-T800W, MFC-T810W, MFC-T910DW
Content Feedback
To help us improve our support, please provide your feedback below.