DCP-J105
| | |
| --- | --- |
| | FAQs & Troubleshooting |
A margin appears on the right side of the scanned document when using the Brother iPrint&Scan application on my Android™ mobile device.
The cause of this situation is the Scan Settings within the Brother iPrint&Scan application.

If the Scan Settings are set as "Scan Type: Color(Fast)" and "Document size: 3.5" x 5" (9 x 13 cm)", a margin will appear on the right side of the scanned document.

To solve this problem, change the Scan Type from Color(Fast) to Color and try scanning again.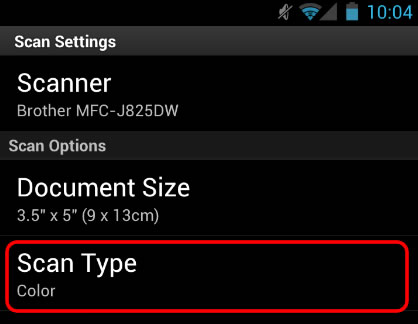 If your question was not answered, have you checked other FAQs?
Have you checked the manuals?
If you need further assistance, please contact Brother customer service:
Related Models
DCP-1610W, DCP-585CW, DCP-6690CW, DCP-9010CN, DCP-9040CN, DCP-9042CDN, DCP-J105, DCP-J140W, DCP-J315W, DCP-L2540DW, DCP-L2550DW, DCP-L5600DN, DCP-T500W, DCP-T510W, DCP-T700W, DCP-T710W, MFC-1910W, MFC-1915W, MFC-255CW, MFC-295CN, MFC-490CW, MFC-5890CN, MFC-6490CW, MFC-6890CDW, MFC-7840N, MFC-7840W, MFC-7860DW, MFC-795CW, MFC-8380DN, MFC-8460N, MFC-8510DN, MFC-8860DN, MFC-8880DN, MFC-8910DW, MFC-9120CN, MFC-9140CDN, MFC-9320CW, MFC-9330CDW, MFC-9440CN, MFC-9450CDN, MFC-9840CDW, MFC-9970CDW, MFC-J200, MFC-J2310, MFC-J2320, MFC-J2330DW, MFC-J2510, MFC-J265W, MFC-J2720, MFC-J2730DW, MFC-J3520, MFC-J3530DW, MFC-J3720, MFC-J3930DW, MFC-J415W, MFC-J430W, MFC-J5910DW, MFC-J615W, MFC-J625DW, MFC-J6510DW, MFC-J6910DW, MFC-J825DW, MFC-L2700DW, MFC-L2715DW, MFC-L2740DW, MFC-L2770DW, MFC-L5900DW, MFC-L6900DW, MFC-L8690CDW, MFC-L8850CDW, MFC-L8900CDW, MFC-L9550CDW, MFC-T4500DW, MFC-T800W, MFC-T810W, MFC-T910DW
Content Feedback
To help us improve our support, please provide your feedback below.