DCP-J105
| | |
| --- | --- |
| | FAQs & Troubleshooting |
How do I know which side up my photo paper should be in the tray?
Inside the paper tray you will see the sticker like an image shown below.
The lines on the corner of the symbol (surrounded by a red border in the image) show that this is the side that the photo will print onto, and therefore it should be face down.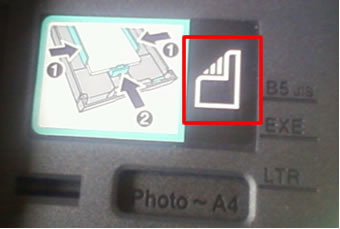 If your question was not answered, have you checked other FAQs?
Have you checked the manuals?
If you need further assistance, please contact Brother customer service:
Related Models
DCP-130C, DCP-135C, DCP-145C, DCP-150C, DCP-165C, DCP-195C, DCP-330C, DCP-350C, DCP-540CN, DCP-560CN, DCP-585CW, DCP-6690CW, DCP-J100, DCP-J105, DCP-J125, DCP-J140W, DCP-J315W, DCP-T300, DCP-T500W, DCP-T700W, MFC-235C, MFC-240C, MFC-250C, MFC-255CW, MFC-260C, MFC-290C, MFC-295CN, MFC-3360C, MFC-440CN, MFC-490CW, MFC-5460CN, MFC-5860CN, MFC-5890CN, MFC-6490CW, MFC-665CW, MFC-6890CDW, MFC-795CW, MFC-885CW, MFC-J200, MFC-J265W, MFC-J415W, MFC-J430W, MFC-J5910DW, MFC-J615W, MFC-J625DW, MFC-J6510DW, MFC-J6910DW, MFC-J825DW, MFC-T800W
Content Feedback
To help us improve our support, please provide your feedback below.