DCP-8025D
| | |
| --- | --- |
| | FAQs & Troubleshooting |
A message to install Java runtime appears when I start some applications on Mac OS X 10.7 or greater.
This message appears if the Java runtime isn't installed on Mac OS X 10.7 or greater. Please follow the instruction on the message and install this software.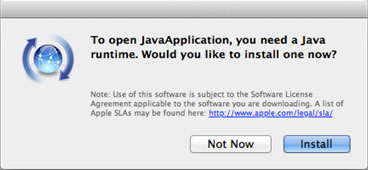 If your question was not answered, have you checked other FAQs?
Have you checked the manuals?
If you need further assistance, please contact Brother customer service:
Related Models
ADS-1100W, ADS-1600W, ADS-2100, ADS-2800W, ADS-3600W, DCP-110C, DCP-115C, DCP-130C, DCP-135C, DCP-145C, DCP-150C, DCP-1511, DCP-1601, DCP-1616NW, DCP-165C, DCP-185C, DCP-195C, DCP-330C, DCP-350C, DCP-385C, DCP-395CN, DCP-585CW, DCP-6690CW, DCP-7010, DCP-7030, DCP-7055, DCP-7060D, DCP-7065DN, DCP-8020, DCP-8025D, DCP-8040, DCP-8045D, DCP-9010CN, DCP-B7500D, DCP-B7535DW, DCP-J100, DCP-J105, DCP-J125, DCP-J140W, DCP-L2520D, DCP-L2531DW, DCP-L2540DW, DCP-L2541DW, DCP-L5600DN, DCP-T300, DCP-T310, DCP-T500W, DCP-T510W, DCP-T700W, DCP-T710W, FAX-1820C, FAX-1840C, FAX-2480C, FAX-2820, HL-1111, HL-1201, HL-1211W, HL-1240, HL-1250, HL-1270N, HL-1430, HL-1440, HL-1450, HL-2040, HL-2070N, HL-2130, HL-2140, HL-2150N, HL-2170W, HL-2240D, HL-2250DN, HL-2460, HL-2700CN, HL-3040CN, HL-3070CW, HL-3150CDN, HL-4040CDN, HL-4150CDN, HL-5040, HL-5050, HL-5070N, HL-5140, HL-5150D, HL-5170DN, HL-5240, HL-5250DN, HL-5340D, HL-5350DN, HL-5440D, HL-5450DN, HL-6050D, HL-6050DN, HL-7050, HL-7050N, HL-B2000D, HL-B2080DW, HL-L2321D, HL-L2351DW, HL-L2361DN, HL-L2366DW, HL-L5000D, HL-L5100DN, HL-L6200DW, MFC-1811, MFC-1911NW, MFC-210C, MFC-215C, MFC-235C, MFC-240C, MFC-290C, MFC-295CN, MFC-3220C, MFC-3240C, MFC-3360C, MFC-3420C, MFC-3820CN, MFC-410CN, MFC-425CN, MFC-440CN, MFC-490CW, MFC-5440CN, MFC-5460CN, MFC-5840CN, MFC-5860CN, MFC-620CN, MFC-6490CW, MFC-665CW, MFC-685CW, MFC-7340, MFC-7360, MFC-7420, MFC-7450, MFC-7820N, MFC-7840N, MFC-7860DN, MFC-7860DW, MFC-8220, MFC-8370DN, MFC-8440, MFC-8460N, MFC-8510DN, MFC-8820D, MFC-8840D, MFC-8840DN, MFC-8860DN, MFC-8880DN, MFC-8910DW, MFC-9120CN, MFC-9140CDN, MFC-9420CN, MFC-9660, MFC-B7715DW, MFC-J2320, MFC-J3520, MFC-J3720, MFC-J410, MFC-J415W, MFC-J430W, MFC-J5910DW, MFC-J615W, MFC-J625DW, MFC-J6520DW, MFC-J6710DW, MFC-J6720DW, MFC-L2701D, MFC-L2701DW, MFC-L5900DW, MFC-T910DW
Content Feedback
To help us improve our support, please provide your feedback below.