DCP-8025D
| | |
| --- | --- |
| | FAQs & Troubleshooting |
Scan a document using "Scanner and Camera Wizard" in Windows XP
For Macintosh Users:
To learn how to scan using the ControlCenter, refer to the Related FAQs at the end of the page.
(If you don't find the Related FAQs at the end of the page, that means this note is not applicable for your machine.)
Refer to the steps below for information on using the "Scanner and Camera Wizard", for general information on scanning click here or click here to learn how to scan from applications that follow the same menu structure as Office XP applications.
The Windows XP operating system includes the "Scanner and Camera Wizard". This software allows you to scan documents and then save those documents as JPEG files, TIFF files etc. Refer to the following to learn more about using your Brother FAX/MFC/DCP with the "Scanner and Camera Wizard".
From "My Computer" right click the appropriate Brother FAX, MFC or DCP machine.

Select Get picture using Scanner Wizard.

Click "Next" at the welcome screen.

Select the save options that you require and click "Next".

The Wizard will now start to scan using the settings you specified.

Select the "Nothing. I'm finished working with these pictures" and click "Next".

The images will then be saved to the the location that you specified in step 4.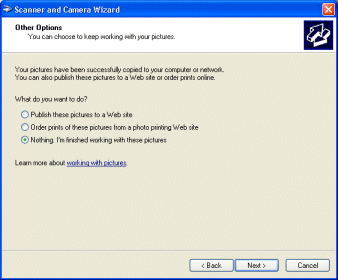 If your question was not answered, have you checked other FAQs?
Have you checked the manuals?
If you need further assistance, please contact Brother customer service:
Related Models
DCP-110C, DCP-115C, DCP-130C, DCP-135C, DCP-145C, DCP-150C, DCP-165C, DCP-185C, DCP-195C, DCP-330C, DCP-350C, DCP-385C, DCP-395CN, DCP-585CW, DCP-6690CW, DCP-7010, DCP-7030, DCP-8020, DCP-8025D, DCP-8040, DCP-8045D, DCP-9010CN, DCP-J100, DCP-J105, DCP-J125, DCP-J140W, DCP-L5600DN, DCP-T300, DCP-T500W, DCP-T700W, MFC-210C, MFC-215C, MFC-235C, MFC-240C, MFC-290C, MFC-295CN, MFC-3220C, MFC-3240C, MFC-3360C, MFC-3420C, MFC-3820CN, MFC-410CN, MFC-425CN, MFC-440CN, MFC-490CW, MFC-5440CN, MFC-5460CN, MFC-5840CN, MFC-5860CN, MFC-620CN, MFC-6490CW, MFC-665CW, MFC-685CW, MFC-7340, MFC-7420, MFC-7450, MFC-7820N, MFC-7840N, MFC-8220, MFC-8370DN, MFC-8440, MFC-8460N, MFC-8510DN, MFC-8820D, MFC-8840D, MFC-8840DN, MFC-8860DN, MFC-8880DN, MFC-8910DW, MFC-9120CN, MFC-9140CDN, MFC-9420CN, MFC-9660, MFC-J2320, MFC-J410, MFC-J415W, MFC-J430W, MFC-J5910DW, MFC-J615W, MFC-J625DW, MFC-J6710DW, MFC-L5900DW
Content Feedback
To help us improve our support, please provide your feedback below.