WD-360B
| | |
| --- | --- |
| | FAQs & Troubleshooting |
The image is not displayed on the full screen.
Is the Zoom Mode set to Enlarge?
Press the Mode button.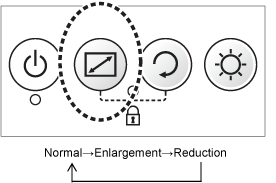 The Mode button may be pressed to enlarge or reduce the size of the image on the Head Display.
The following Zoom modes are available:
Normal - the image is sized in accordance with the input signal
Enlarge - the centre portion of the image is enlarged to fit the Head Display screen;
this mode is useful for focusing or to check fine details in the image
Reduce - the image is reduced in size to fit the Head Display screen;
this mode is useful if you are unable to clearly see details around the edges of the image in Normal mode
Pressing the Mode button will change the Zoom mode in the following order: Normal, Enlarge, Reduce, Normal...
The size change in Enlarge and Reduce modes are fixed percentages and cannot be changed by the user.
If your question was not answered, have you checked other FAQs?
Have you checked the manuals?
If you need further assistance, please contact Brother customer service:
Content Feedback
To help us improve our support, please provide your feedback below.