MFC-J415W
| | |
| --- | --- |
| | FAQs & Troubleshooting |
ControlCenter3 displays a blank screen at startup (Windows)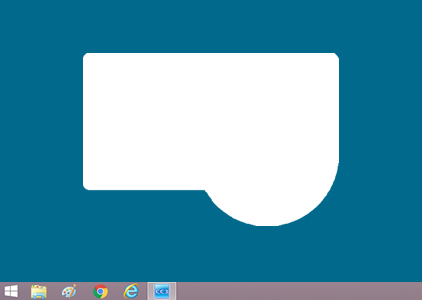 If ControlCenter3 displays a blank screen and you cannot use it, you must run a batch file that resets it back to Classic Mode.
Right-click the CC3 icon in the task tray and click Exit.
Download the batch file.
> Click here to download the batch file.
Click the downloaded ChangeSkinToClassic.exe file. The file will run in the background.
Go to Start > Brother > Brother Utilities.
In Brother Utilities, click Scan, and then click ControlCenter3.
In the task tray, click the CC3 icon and then click Open.
If you enable Modern Mode, you must run the batch file again.
If the batch file creates a temporary folder ("BrotherCC3") on your desktop, it can be safely deleted.
If your question was not answered, have you checked other FAQs?
Have you checked the manuals?
If you need further assistance, please contact Brother customer service:
Related Models
DCP-110C, DCP-115C, DCP-117C, DCP-120C, DCP-130C, DCP-135C, DCP-145C, DCP-150C, DCP-163C, DCP-165C, DCP-167C, DCP-195C, DCP-197C, DCP-310CN, DCP-315CN, DCP-330C, DCP-340CW, DCP-350C, DCP-357C, DCP-365CN, DCP-375CW, DCP-377CW, DCP-385C, DCP-395CN, DCP-540CN, DCP-560CN, DCP-585CW, DCP-6690CW, DCP-7010, DCP-7010L, DCP-7025, DCP-7030, DCP-7045N, DCP-750CW, DCP-770CW, DCP-8060, DCP-8065DN, DCP-8070D, DCP-8085DN, DCP-9010CN, DCP-9040CN, DCP-9042CDN, DCP-9045CDN, DCP-J125, DCP-J315W, DCP-J515W, DCP-J715W, FAX-1840C, FAX-1940CN, FAX-2440C, FAX-2820, FAX-2920, MFC-210C, MFC-215C, MFC-235C, MFC-240C, MFC-250C, MFC-255CW, MFC-260C, MFC-290C, MFC-295CN, MFC-297C, MFC-3240C, MFC-3340CN, MFC-3360C, MFC-410CN, MFC-425CN, MFC-440CN, MFC-465CN, MFC-490CW, MFC-5440CN, MFC-5460CN, MFC-5490CN, MFC-5840CN, MFC-5860CN, MFC-5890CN, MFC-5895CW, MFC-620CN, MFC-640CW, MFC-6490CW, MFC-660CN, MFC-680CN, MFC-6890CDW, MFC-7225N, MFC-7320, MFC-7420, MFC-7440N, MFC-7820N, MFC-7840W, MFC-790CW, MFC-795CW, MFC-820CW, MFC-8370DN, MFC-8380DN, MFC-845CW, MFC-8460N, MFC-885CW, MFC-8860DN, MFC-8870DW, MFC-8880DN, MFC-8890DW, MFC-9120CN, MFC-9320CW, MFC-9420CN, MFC-9440CN, MFC-9450CDN, MFC-9840CDW, MFC-990CW, MFC-J265W, MFC-J410, MFC-J415W, MFC-J615W
Content Feedback
To help us improve our support, please provide your feedback below.