MFC-J415W
| | |
| --- | --- |
| | FAQs & Troubleshooting |
What is Ad-hoc mode?
Ad-hoc mode is a wireless network framework that does not have a central access point / router. Each wireless client communicates directly with each other. When the Brother wireless machine is part of ad-hoc mode network, it receives all print jobs directly from the computer sending the print data.


NOTE: Illustrations shown below are from a representative product and may differ from your Brother machine.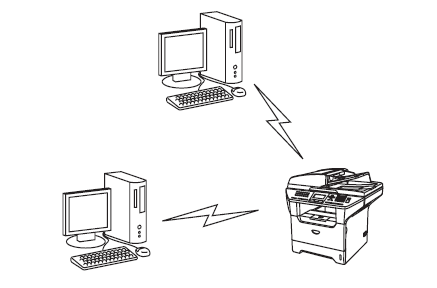 If your question was not answered, have you checked other FAQs?
Have you checked the manuals?
If you need further assistance, please contact Brother customer service:
Related Models
ADS-2600W, DCP-340CW, DCP-375CW, DCP-377CW, DCP-585CW, DCP-6690CW, DCP-7055W, DCP-7070DW, DCP-750CW, DCP-770CW, DCP-J140W, DCP-J315W, DCP-J4110DW, DCP-J515W, DCP-J525W, DCP-J715W, DCP-J725DW, DCP-J925DW, HL-2135W, HL-2170W, HL-2270DW, HL-3070CW, HL-4070CDW, HL-4570CDW, HL-4570CDWT, HL-5280DW, HL-5370DW, HL-5450DN, HL-5450DNT, HL-5470DW, HL-6180DW, HL-6180DWT, MFC-255CW, MFC-490CW, MFC-5895CW, MFC-640CW, MFC-6490CW, MFC-6890CDW, MFC-7840W, MFC-7860DW, MFC-790CW, MFC-795CW, MFC-820CW, MFC-845CW, MFC-885CW, MFC-8870DW, MFC-8890DW, MFC-8950DW, MFC-8950DWT, MFC-9320CW, MFC-9840CDW, MFC-990CW, MFC-9970CDW, MFC-J265W, MFC-J415W, MFC-J430W, MFC-J4410DW, MFC-J4510DW, MFC-J4610DW, MFC-J4710DW, MFC-J5910DW, MFC-J615W, MFC-J625DW, MFC-J6510DW, MFC-J6710DW, MFC-J6910DW, MFC-J825DW
Content Feedback
To help us improve our support, please provide your feedback below.