MFC-260C
| | |
| --- | --- |
| | FAQs & Troubleshooting |
I'm using Windows Vista. When I try to install the Full Driver & Software Package I receive the error message "Unhandled Exception". What should I do?
This issue typically occurs when you copy and transfer a file downloaded from another PC, by CD-R or USB memory. To resolve this issue create a temporary folder or directory on your HDD [hard disk drive] as the location to save the downloaded self-extracting file, e.g. C:\brodnt.
Then save the downloaded self-extracting file in the temporary folder. You can then extract the file and run the install.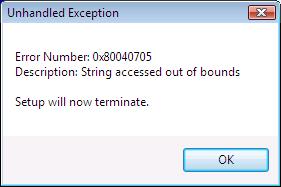 If your question was not answered, have you checked other FAQs?
Have you checked the manuals?
If you need further assistance, please contact Brother customer service:
Related Models
DCP-130C, DCP-135C, DCP-150C, DCP-153C, DCP-330C, DCP-350C, DCP-353C, DCP-357C, DCP-540CN, DCP-560CN, DCP-7010, DCP-7010L, DCP-7010R, DCP-7025, DCP-7025R, DCP-750CW, DCP-770CW, DCP-8060, DCP-8065DN, MFC-235C, MFC-240C, MFC-260C, MFC-440CN, MFC-465CN, MFC-5460CN, MFC-5860CN, MFC-660CN, MFC-680CN, MFC-7420, MFC-7420R, MFC-7820N, MFC-7820NR, MFC-845CW, MFC-8460N, MFC-885CW, MFC-8860DN, MFC-8870DW, MFC-9420CN
Content Feedback
To help us improve our support, please provide your feedback below.