MFC-260C
| | |
| --- | --- |
| | FAQs & Troubleshooting |
I'm using Windows. What format are the attachments when a document is scanned to e-mail and is a special viewer needed?
You can choose from several file formats when using the Scan to E-mail feature.
Windows Bitmap (*.bmp)
JPEG (*.jpg)
TIFF- Uncompressed (*.tif)
TIFF- Compressed (*.tif)
TIFF Multi-Page- Uncompressed (*.tif)
TIFF Multi-Page- Compressed (*.tif)
Portable Network Graphics (*.png)
PDF (*.pdf)
If you select TIFF or JPEG attachment format, you don't need a special viewer.
To change the default E-mail attachment file type, right-click the E-mail button on the ControlCenter, click ControlCenter Configuration and click the Software Button tab. From the File Type drop-down, make your selection and click OK.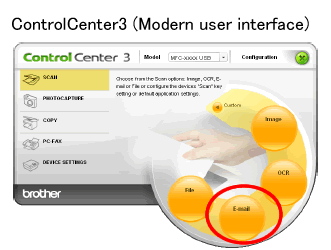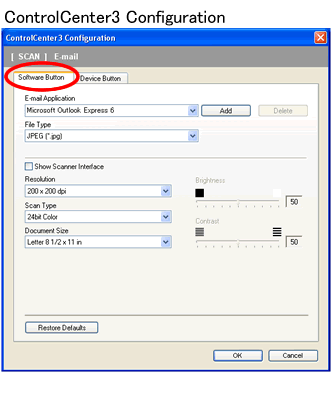 If your question was not answered, have you checked other FAQs?
Have you checked the manuals?
If you need further assistance, please contact Brother customer service:
Related Models
DCP-130C, DCP-135C, DCP-145C, DCP-150C, DCP-153C, DCP-163C, DCP-165C, DCP-167C, DCP-185C, DCP-330C, DCP-350C, DCP-353C, DCP-357C, DCP-383C, DCP-385C, DCP-387C, DCP-540CN, DCP-560CN, DCP-585CW, DCP-6690CW, DCP-7030, DCP-7030R, DCP-7040, DCP-7040R, DCP-7045N, DCP-7045NR, DCP-750CW, DCP-770CW, DCP-9040CN, DCP-9042CDN, DCP-9045CDN, MFC-235C, MFC-240C, MFC-250C, MFC-260C, MFC-290C, MFC-297C, MFC-3360C, MFC-440CN, MFC-465CN, MFC-490CW, MFC-5460CN, MFC-5490CN, MFC-5860CN, MFC-5890CN, MFC-5895CW, MFC-6490CW, MFC-660CN, MFC-680CN, MFC-6890CDW, MFC-7320, MFC-7320R, MFC-7440N, MFC-7440NR, MFC-7840W, MFC-7840WR, MFC-790CW, MFC-845CW, MFC-885CW, MFC-9440CN, MFC-9450CDN, MFC-9840CDW, MFC-990CW
Content Feedback
To help us improve our support, please provide your feedback below.