HL-L9200CDWT
| | |
| --- | --- |
| | FAQs & Troubleshooting |
Curled or wavy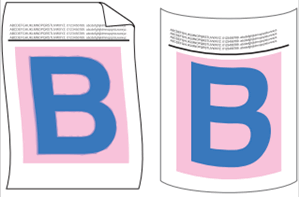 Check the following points to resolve the issue:

Choose Reduce Paper Curl mode in the printer driver. If the issue is not resolved, choose Plain Paper in the media type setting. If you are printing an envelope, choose Env. Thin in the media type setting.
If you do not use the machine often, the paper may have been in the paper tray too long. Turn over the stack of paper in the paper tray. Also, fan the paper stack and then rotate the paper 180° in the paper tray.
Store the paper where it will not be exposed to high temperatures and high humidity.
Open the back cover (face-up output tray) to let the printed paper exit onto the face-up output tray.
If your question was not answered, have you checked other FAQs?
Have you checked the manuals?
If you need further assistance, please contact Brother customer service:
Related Models
DCP-L3510CDW, DCP-L3517CDW, DCP-L3550CDW, DCP-L8400CDN, DCP-L8410CDW, DCP-L8450CDW, HL-L3210CW, HL-L3230CDW, HL-L3270CDW, HL-L8250CDN, HL-L8260CDW, HL-L8350CDW, HL-L8360CDW, HL-L9200CDWT, HL-L9300CDW(TT), HL-L9310CDW(T), MFC-L3710CW, MFC-L3730CDN, MFC-L3750CDW, MFC-L3770CDW, MFC-L8650CDW, MFC-L8690CDW, MFC-L8850CDW, MFC-L8900CDW, MFC-L9550CDW(T), MFC-L9570CDW(T), MFC-L9577CDW
Content Feedback
To help us improve our support, please provide your feedback below.