HL-L9200CDWT
| | |
| --- | --- |
| | FAQs & Troubleshooting |
Blank page or some colors are missing.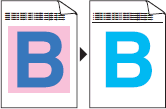 Check the following points to resolve the issue:
Identify the color causing the problem and put in a new toner cartridge as follow:

Click here to print the chart. [345KB/ PDF]

Compare your printed document with the printed chart to identify the color causing the problem.

Replace the toner cartridge of the color. Click here to see the details of how to replace the toner cartridge.


Install in a new drum unit. Click here to see the details of how to replace the drum unit.

If your question was not answered, have you checked other FAQs?
Have you checked the manuals?
If you need further assistance, please contact Brother customer service:
Related Models
DCP-L3510CDW, DCP-L3517CDW, DCP-L3550CDW, DCP-L8400CDN, DCP-L8410CDW, DCP-L8450CDW, HL-L3210CW, HL-L3230CDW, HL-L3270CDW, HL-L8250CDN, HL-L8260CDW, HL-L8350CDW, HL-L8360CDW, HL-L9200CDWT, HL-L9300CDW(TT), HL-L9310CDW(T), MFC-L3710CW, MFC-L3730CDN, MFC-L3750CDW, MFC-L3770CDW, MFC-L8650CDW, MFC-L8690CDW, MFC-L8850CDW, MFC-L8900CDW, MFC-L9550CDW(T), MFC-L9570CDW(T), MFC-L9577CDW
Content Feedback
To help us improve our support, please provide your feedback below.