HL-L2371DN
| | |
| --- | --- |
| | FAQs & Troubleshooting |
Stop the paper feeding twice through the machine when printing single pages with 2-sided(duplex) switched to on in the printer driver. (For Windows Only)
The following procedure will work to stop the paper feeding twice through the machine however in some instances depending on the application and operating system there maybe occurrences when the following procedure does not work.
This problem does not happen on Macintosh.
NOTE: The screens may differ depending on operating system being used and your Brother machine.
Open Printer Properties. (Click here to see how to open Printer Properties.)

Click the Advanced tab and uncheck the Enable advanced printing features option.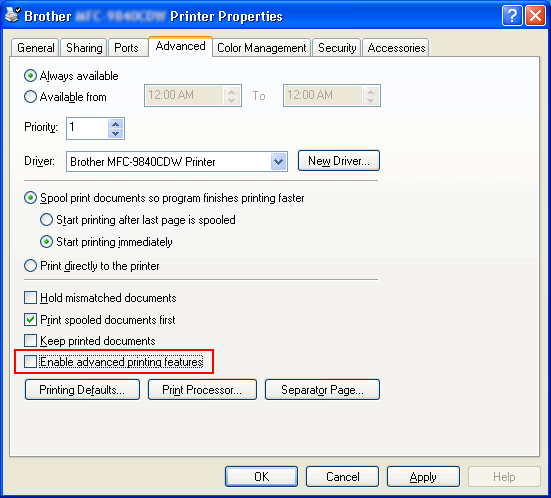 Click Apply => OK.
In the some rare cases when printing large quantities or a large amounts of data from some applications or operating systems the machine may experience a slowdown in the printing speed.
If your question was not answered, have you checked other FAQs?
Have you checked the manuals?
If you need further assistance, please contact Brother customer service:
Related Models
DCP-8110DN, DCP-8250DN, DCP-9055CDN, DCP-9270CDN, HL-2240D, HL-2240DR, HL-2250DN, HL-2250DNR, HL-2270DW, HL-4050CDN, HL-4070CDW, HL-4150CDN, HL-4570CDW, HL-4570CDWT, HL-5250DN, HL-5270DN, HL-5280DW, HL-5340D, HL-5350DN, HL-5370DW, HL-5380DN, HL-5440D, HL-5450DN, HL-5450DNT, HL-5470DW, HL-6180DW, HL-6180DWT, HL-B2080DW, HL-L2300D, HL-L2300DR, HL-L2310D, HL-L2312D, HL-L2340DW, HL-L2340DWR, HL-L2350DW, HL-L2352DW, HL-L2357DW, HL-L2360DN, HL-L2360DNR, HL-L2365DW, HL-L2365DWR, HL-L2370DN, HL-L2371DN, HL-L2372DN, HL-L2375DW, MFC-8510DN, MFC-8520DN, MFC-8950DW, MFC-8950DWT, MFC-9460CDN, MFC-9465CDN, MFC-9970CDW
Content Feedback
To help us improve our support, please provide your feedback below.