HL-1030
| | |
| --- | --- |
| | FAQs & Troubleshooting |
My Brother machine misfeeds paper.
Ensure that you are using paper that meets Brother recommended paper specifications. Check the User's Guide for more information.

If there is paper in the paper tray, make sure it is straight. If the paper is curled, you should straighten it before printing. Sometimes it is helpful to remove the paper, turn the stack over and put it back into the paper tray.

When using media such as transparency sheets, label sheets, or envelopes, fan the stack before loading so that there is air between the sheets.

Reduce the amount of paper in the paper tray, then try again.

Check that manual feed mode isn't selected in the printer driver.

Check to see if the Alarm LED is on. If so, the paper tray may be out of paper or not properly installed. If it is empty, load a new stack of paper into the paper tray. Or make sure that the paper tray properly inserted.

Are the Mylar films close to the pick-up roller bent?
This can happen if the printer originally jammed and to clear the problem, the paper was pulled out too forcefully. Please click here to refer to the detail.


Make sure that the paper tray is properly inserted. Push the paper tray completely back into the printer.

In the paper tray, set the side and end guides to the correct positions for the appropriate paper.

Make sure that the different types of paper aren't loaded at the same time. It may cause paper misfeed.

If the paper feed (pickup) rollers or the separation pad are dirty with paper dust, the paper may not feed correctly. In this case, clean their surface with moistened, clean, lint-free cloth or have them replaced at your service center.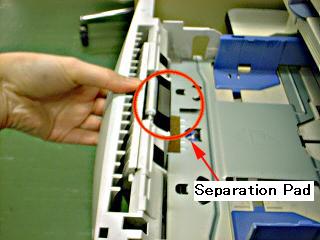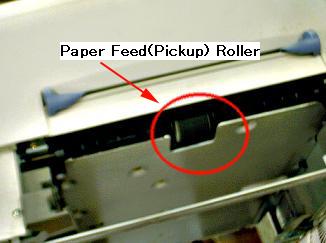 If your question was not answered, have you checked other FAQs?
Have you checked the manuals?
If you need further assistance, please contact Brother customer service:
Content Feedback
To help us improve our support, please provide your feedback below.