PE-400D
| | |
| --- | --- |
| | FAQs & Troubleshooting |
How do I wind the bobbin?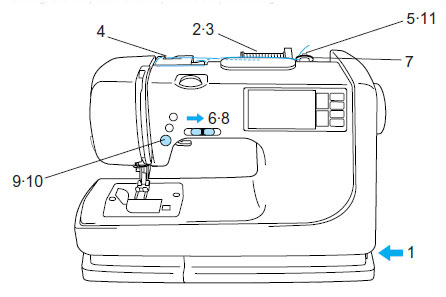 Always use bobbins that are especially made for this machine.
Using bobbins not designed for this machine could result in bodily injury and/or damage to the machine.
For sewing, use the plastic bobbin (X80309-001) for sewing.
Turn the power on.

While winding the bobbin, be sure that the spool pin is pulled out and pushed toward the back of the sewing machine.

Set the thread spool.
The thread end should come from the bottom front of the spool.
The spool cap closest to the thread spool size should be used to hold the spool securely on the spool pin.

If the spool is placed onto the pin in the wrong direction, the thread could entwine itself around spool pin.

Pass the thread through the thread guide as shown by the arrows.
Threading is easy if you hold the thread gently with your right hand while guiding the end of the thread with your left hand.

Guide the thread through the small hole in the side of the bobbin from the inside.
Align the groove in the bobbin with the spring on the shaft and place the bobbin on the bobbin winder shaft.
While holding the thread end, push the bobbin winder shaft to the right.

Set the speed to minimum.

While holding the thread end, press the "START/STOP" button.
Wind the thread a few times around the bobbin and press the "START/STOP" button again.
Trim the excess thread from the top of the bobbin after the machine stops.

Set the speed to maximum.

Press the "START/STOP" button.
The bobbin will stop spinning when bobbin winding is finished.

When the bobbin stops spinning, press the "START/STOP" button to stop the sewing machine.

Push the bobbin shaft to the left. Remove the bobbin.
If your question was not answered, have you checked other FAQs?
Have you checked the manuals?
If you need further assistance, please contact Brother customer service:
Content Feedback
To help us improve our support, please provide your feedback below.