HL-3180CDW
| | |
| --- | --- |
| | FAQs & Troubleshooting |
I'm using Windows XP Professional x64 Edition/ Windows Vista 64-bit edition. I'm unable to scan from Corel® Paint Shop Pro® X using the WIA driver.
To resolve this issue, use the TWAIN driver instead of the WIA driver.
Please follow the steps below:
From the Corel® Paint Shop Pro® X application, select File => Import => TWAIN Source....

The Select Source dialog box appears.

Choose the TW-Brother XXXXXXX and click Select. (Where XXXXXXX is your model name.)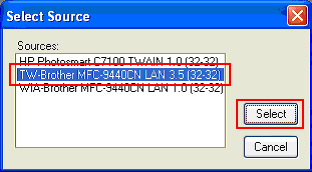 From the Corel® Paint Shop Pro® X application, select File => Import => TWAIN Acquire....

The Scanner Setup dialog box appears.

Configure your desired scan settings.

Click Start to scan the image.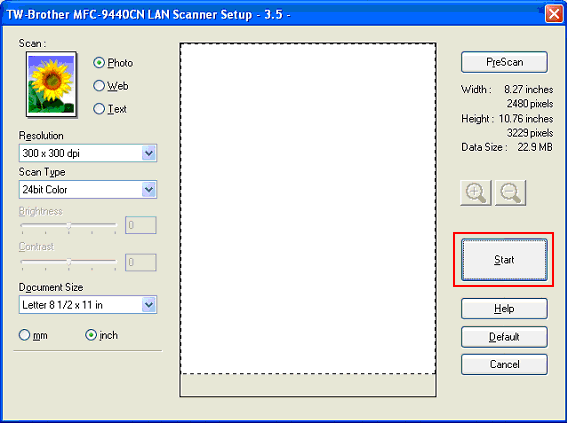 If your question was not answered, have you checked other FAQs?
Have you checked the manuals?
If you need further assistance, please contact Brother customer service:
Related Models
DCP-110C, DCP-120C, DCP-1612W, DCP-540CN, DCP-7020, DCP-7060D, DCP-7065DN, DCP-8040, DCP-8080DN, DCP-9040CN, DCP-L2520DW, DCP-L2540DW, HL-2280DW, HL-3180CDW, HL-L2380DW, MFC-210C, MFC-255CW, MFC-295CN, MFC-3240C, MFC-3320CN, MFC-3340CN, MFC-420CN, MFC-440CN, MFC-465CN, MFC-490CW, MFC-495CW, MFC-5440CN, MFC-5460CN, MFC-5490CN, MFC-5840CN, MFC-5890CN, MFC-5895CW, MFC-620CN, MFC-640CW, MFC-6490CW, MFC-665CW, MFC-685CW, MFC-6890CDW, MFC-7220, MFC-7360N, MFC-7420, MFC-7440N, MFC-7460DN, MFC-7820N, MFC-7840W, MFC-7860DW, MFC-790CW, MFC-795CW, MFC-8220, MFC-8420, MFC-8440, MFC-8460N, MFC-8480DN, MFC-8510DN, MFC-8710DW, MFC-8820D, MFC-8820DN, MFC-8840D, MFC-8840DN, MFC-885CW, MFC-8860DN, MFC-8890DW, MFC-8910DW, MFC-8950DW, MFC-9010CN, MFC-9120CN, MFC-9125CN, MFC-9130CW, MFC-9320CW, MFC-9325CW, MFC-9330CDW, MFC-9340CDW, MFC-9420CN, MFC-9440CN, MFC-9450CDN, MFC-9460CDN, MFC-9560CDW, MFC-9840CDW, MFC-990CW, MFC-9970CDW, MFC-J265W, MFC-J280W, MFC-J285DW, MFC-J415W, MFC-J425W, MFC-J430W, MFC-J4310DW, MFC-J435W, MFC-J4410DW, MFC-J450DW, MFC-J4510DW, MFC-J4610DW, MFC-J470DW, MFC-J4710DW, MFC-J475DW, MFC-J480DW, MFC-J485DW, MFC-J5910DW, MFC-J615W, MFC-J625DW, MFC-J650DW, MFC-J6510DW, MFC-J6710DW, MFC-J680DW, MFC-J6910DW, MFC-J825DW, MFC-J835DW, MFC-J870DW, MFC-J875DW, MFC-J885DW, MFC-J985DW(XL), MFC-L2700DW, MFC-L2720DW, MFC-L2740DW, MFC-L5700DW, MFC-L5800DW, MFC-L5900DW, MFC-L6700DW, MFC-L6900DW, MFC-L8600CDW, MFC-L8850CDW, MFC-L9550CDW
Content Feedback
To help us improve our support, please provide your feedback below.