MFC-J5730DW
| | |
| --- | --- |
| | FAQs & Troubleshooting |
Wireless setup is requesting a WPS PIN to complete the setup
While attempting to set up the Brother machine on a wireless network, you may see a screen requesting a WPS PIN to complete the setup. This typically occurs if Wi-Fi Direct is enabled on your machine and you attempt to add a Wi-Fi Direct connection using Printers and Scanners in Windows. We recommend using the Wireless Setup Wizard or the Control Panel method to configure the wireless connection instead.
NOTE: The screens may differ depending on your operating system and your Brother machine.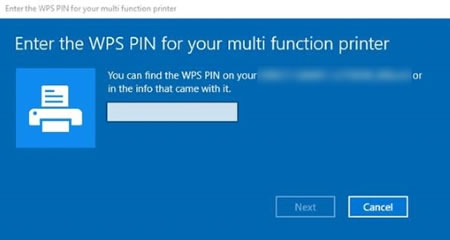 To resolve this issue, complete the following steps:
If the WPS PIN request screen is still open on your computer, click Cancel.
Reset the network settings to the factory default.
> Click here to see how to reset the machine back to the factory settings.
Reconnect the machine to the wireless network using the recommended wireless network setup methods.
> Click here to see how to set up your Brother machine.
If your question was not answered, have you checked other FAQs?
Have you checked the manuals?
If you need further assistance, please contact Brother customer service:
Related Models
ADS-1700W, ADS-2800W, ADS-3600W, DCP-375CW, DCP-585CW, DCP-6690CW, DCP-9015CDW, DCP-J1100DW, DCP-J140W, DCP-J152W, DCP-J172W, DCP-J315W, DCP-J4110DW, DCP-J4120DW, DCP-J515W, DCP-J525W, DCP-J552DW, DCP-J562DW, DCP-J715W, DCP-J725DW, DCP-J752DW, DCP-J925DW, DCP-L3510CDW, HL-3170CDW, HL-4570CDW, HL-5470DW, HL-6180DW, HL-L2305W, HL-L2340DW, HL-L2350DW, HL-L2365DW, HL-L2375DW, HL-L2380DW, HL-L2395DW, HL-L3230CDW, HL-L3270CDW, HL-L5200DW, HL-L6200DW, HL-L6400DW, HL-L8260CDW, HL-L8350CDW, HL-L8360CDW, HL-L9200CDW, HL-L9310CDW, HL-S7000DN, MFC-255CW, MFC-257CW, MFC-490CW, MFC-640CW, MFC-6490CW, MFC-665CW, MFC-685CW, MFC-6890CDW, MFC-7840W, MFC-7860DW, MFC-790CW, MFC-795CW, MFC-885CW, MFC-8890DW, MFC-8910DW, MFC-8950DW, MFC-9320CW, MFC-9325CW, MFC-9330CDW, MFC-9335CDW, MFC-9340CDW, MFC-9840CDW, MFC-990CW, MFC-9970CDW, MFC-J1300DW, MFC-J265W, MFC-J415W, MFC-J430W, MFC-J432W, MFC-J4410DW, MFC-J4510DW, MFC-J4620DW, MFC-J470DW, MFC-J4710DW, MFC-J475DW, MFC-J480DW, MFC-J491DW, MFC-J5320DW, MFC-J5330DW, MFC-J5720DW, MFC-J5730DW, MFC-J5845DW, MFC-J5910DW, MFC-J5920DW, MFC-J5930DW, MFC-J5945DW, MFC-J615W, MFC-J625DW, MFC-J650DW, MFC-J6510DW, MFC-J6530DW, MFC-J6545DW, MFC-J6710DW, MFC-J6730DW, MFC-J680DW, MFC-J6910DW, MFC-J6930DW, MFC-J6935DW, MFC-J6945DW, MFC-J825DW, MFC-J870DW, MFC-J880DW, MFC-J890DW, MFC-L2700DW, MFC-L2703DW, MFC-L2710DW, MFC-L2713DW, MFC-L2720DW, MFC-L2730DW, MFC-L2740DW, MFC-L2750DW, MFC-L3745CDW, MFC-L3750CDW, MFC-L3770CDW, MFC-L5755DW, MFC-L6700DW, MFC-L6900DW, MFC-L8600CDW, MFC-L8690CDW, MFC-L8850CDW, MFC-L8900CDW, MFC-L9550CDW, MFC-L9570CDW
Content Feedback
To help us improve our support, please provide your feedback below.