TD-4550DNWB
| | |
| --- | --- |
| | FAQs & Troubleshooting |
What is the SSID?
If you want to connect your printer to another device using a wireless LAN, you must connect your printer to a device that functions as a relay point in the wireless LAN. This relay point is called an access point.
When connecting to a wireless LAN, you must specify which device to use as the access point. Because each access point in the wireless LAN is assigned a name, you can select the access point using that name.
The name of an access point in a wireless LAN is called an SSID (Service Set Identifier). The SSID is comprised of up to 32 alphanumeric characters.
When you search for SSIDs using the Printer Setting Tool or your printer, the SSIDs of access points from which radio waves can be received are displayed. Often, many SSIDs are displayed as shown below. Select the SSID for the access point you want to connect to from this list.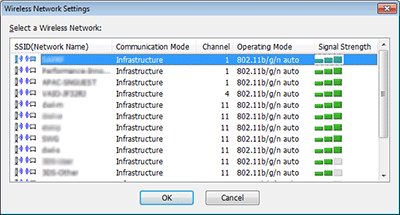 For more information about the actual connection procedures, refer to the Related FAQs below.
If your question was not answered, have you checked other FAQs?
Have you checked manuals?
If you need further assistance, please contact Brother customer service:
Content Feedback
To help us improve our support, please provide your feedback below.