NC-9100h
| | |
| --- | --- |
| | FAQs & Troubleshooting |
I updated the Web BRAdmin and cannot enable the logging function.
Download and install the latest Web BRAdmin software from the Download section of this web site.

If the issue still persists, delete the network devices you wish to monitor once from the list in the main Web BRAdmin screen.
And then click the "Search Network" button and try enabling the logging function again.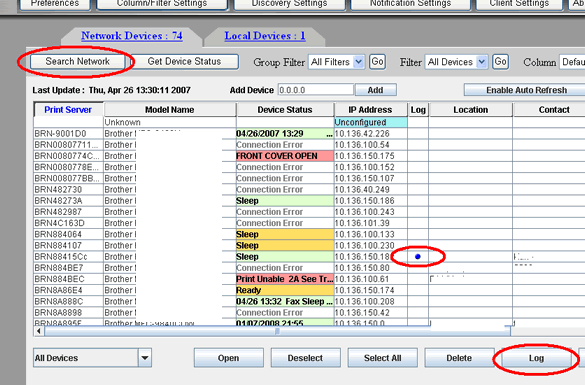 If your question was not answered, have you checked other FAQs?
Have you checked the manuals?
If you need further assistance, please contact Brother customer service:
Related Models
DCP-375CW, DCP-395CN, DCP-540CN, DCP-560CN, DCP-585CW, DCP-6690CW, DCP-7010, DCP-7025, DCP-7045N, DCP-7065DN, DCP-8020, DCP-8025D, DCP-8040, DCP-8045D, DCP-8060, DCP-8065DN, DCP-8085DN, DCP-9010CN, DCP-9040CN, DCP-9042CDN, DCP-9055CDN, DCP-J315W, DCP-J515W, DCP-J715W, HL-1240, HL-1250, HL-1270N, HL-1470N, HL-1650, HL-1670N, HL-1850, HL-1870N, HL-2460, HL-2600CN, HL-2700CN, HL-3040CN, HL-3045CN, HL-3070CW, HL-3075CW, HL-3260N, HL-3450CN, HL-4000CN, HL-4150CDN, HL-4200CN, HL-4570CDW, HL-5040, HL-5050, HL-5070N, HL-5140, HL-5150D, HL-5170DN, HL-5350DN, HL-5370DW, HL-5380DN, HL-6050D, HL-6050DN, HL-7050, HL-7050N, HL-8050N, MFC-255CW, MFC-257CW, MFC-295CN, MFC-3820CN, MFC-410CN, MFC-440CN, MFC-465CN, MFC-490CW, MFC-5440CN, MFC-5460CN, MFC-5490CN, MFC-5840CN, MFC-5860CN, MFC-5890CN, MFC-620CN, MFC-6490CW, MFC-665CW, MFC-685CW, MFC-6890CDW, MFC-7220, MFC-7225N, MFC-7360N, MFC-7362N, MFC-7420, MFC-7440N, MFC-7460DN, MFC-7820N, MFC-7840N, MFC-7840W, MFC-7860DN, MFC-7860DW, MFC-790CW, MFC-795CW, MFC-8220, MFC-8370DN, MFC-8380DN, MFC-8440, MFC-8460N, MFC-8480DN, MFC-8820D, MFC-8840D, MFC-8840DN, MFC-885CW, MFC-8860DN, MFC-8880DN, MFC-8890DW, MFC-9010CN, MFC-9120CN, MFC-9125CN, MFC-9320CW, MFC-9325CW, MFC-9420CN, MFC-9440CN, MFC-9450CDN, MFC-9460CDN, MFC-9840CDW, MFC-990CW, MFC-9970CDW, MFC-J265W, MFC-J415W, MFC-J615W, MFC-J6510DW, MFC-J6710DW, MFC-J6910DW, NC-2200w, NC-6100h, NC-8100h, NC-9100h
Content Feedback
To help us improve our support, please provide your feedback below.