MFC-1815
| | |
| --- | --- |
| | FAQs & Troubleshooting |
Where can I find my Brother machine's serial number?
The serial number is on the back of the unit.

The serial number on the back of the unit has 15 characters. Please note that the serial number displayed on the LCD has 9 characters, as it omits the first 6 characters.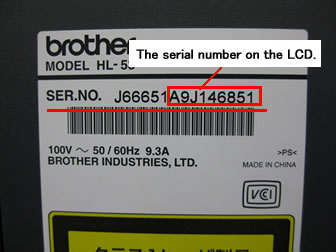 You can also see the serial number on the LCD following these instructions:
*If your Brother machine has a touchscreen, please follow the steps under "For touch screen models" below.

Press Menu.
Press the Up or Down Arrow key to select Machine Info. Press OK.

Press the Up or Down Arrow key to select Serial No. and press OK.

The serial number is displayed on the LCD.

Press Stop/Exit.
<For touch screen models>
Press MENU on the touch screen.
Press the Up or Down Arrow key to display Machine Info.
Press Machine Info.
The serial number is displayed on the LCD.
Press Stop/Exit key on the control panel.
If your question was not answered, have you checked other FAQs?
Have you checked the manuals?
If you need further assistance, please contact Brother customer service:
Related Models
DCP-130C, DCP-135C, DCP-145C, DCP-150C, DCP-1510, DCP-1511, DCP-1514, DCP-155C, DCP-1601, DCP-1610W, DCP-1615NW, DCP-1616NW, DCP-165C, DCP-185C, DCP-195C, DCP-330C, DCP-350C, DCP-375CW, DCP-385C, DCP-395CN, DCP-540CN, DCP-560CN, DCP-585CW, DCP-6690CW, DCP-7030, DCP-7040, DCP-7045N, DCP-7055, DCP-7060D, DCP-7065DN, DCP-8070D, DCP-8085DN, DCP-8110D, DCP-8155DN, DCP-9010CN, DCP-9040CN, DCP-9042CDN, DCP-9055CDN, DCP-J100, DCP-J105, DCP-J125, DCP-J140W, DCP-J152W, DCP-J315W, DCP-J515W, DCP-J715W, DCP-J925DW, DCP-T300, DCP-T500W, DCP-T700W, FAX-1360, FAX-2480C, MFC-1810, MFC-1811, MFC-1815, MFC-1901, MFC-1905, MFC-1910W, MFC-1911NW, MFC-1911W, MFC-1915W, MFC-1916NW, MFC-230C, MFC-235C, MFC-240C, MFC-250C, MFC-255CW, MFC-257CW, MFC-260C, MFC-265C, MFC-290C, MFC-295CN, MFC-3360C, MFC-440CN, MFC-465CN, MFC-490CW, MFC-5460CN, MFC-5490CN, MFC-5860CN, MFC-5890CN, MFC-6490CW, MFC-665CW, MFC-685CW, MFC-6890CDW, MFC-7320, MFC-7340, MFC-7360, MFC-7360N, MFC-7362N, MFC-7440N, MFC-7450, MFC-7460DN, MFC-7470D, MFC-7840N, MFC-7840W, MFC-7860DN, MFC-7860DW, MFC-790CW, MFC-795CW, MFC-8370DN, MFC-8380DN, MFC-8480DN, MFC-8510DN, MFC-885CW, MFC-8880DN, MFC-8890DW, MFC-8910DW, MFC-8950DW, MFC-9010CN, MFC-9120CN, MFC-9125CN, MFC-9320CW, MFC-9325CW, MFC-9440CN, MFC-9450CDN, MFC-9460CDN, MFC-9840CDW, MFC-990CW, MFC-9970CDW, MFC-J200, MFC-J220, MFC-J245, MFC-J265W, MFC-J410, MFC-J415W, MFC-J430W, MFC-J432W, MFC-J470DW, MFC-J475DW, MFC-J615W, MFC-J6510DW, MFC-J6710DW, MFC-J6910DW, MFC-J825DW, MFC-T800W
Content Feedback
To help us improve our support, please provide your feedback below.