MFC-9440CN
| | |
| --- | --- |
| | FAQs & Troubleshooting |
The error message "An error occurred during the installation. ... . IS015- GetOsVersion - 1" appears when installing the Full Driver & Software Packages for Windows 7 downloaded from the "Download" section.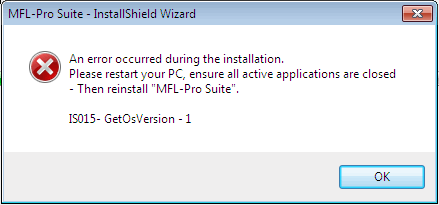 This error occurs if you double-click the wrong setup.exe file. Please go to the "[model name]" folder and double-click "Setup.exe" to start the installation.
If your question was not answered, have you checked other FAQs?
Have you checked the manuals?
If you need further assistance, please contact Brother customer service:
Related Models
DCP-115C, DCP-120C, DCP-130C, DCP-135C, DCP-145C, DCP-150C, DCP-155C, DCP-165C, DCP-185C, DCP-195C, DCP-330C, DCP-350C, DCP-375CW, DCP-385C, DCP-395CN, DCP-540CN, DCP-560CN, DCP-585CW, DCP-6690CW, DCP-7010, DCP-7030, DCP-7040, DCP-8060, DCP-8065DN, DCP-8070D, DCP-8085DN, DCP-9010CN, DCP-9040CN, DCP-9042CDN, FAX-2480C, FAX-2820, FAX-2920, MFC-215C, MFC-230C, MFC-235C, MFC-240C, MFC-250C, MFC-255CW, MFC-260C, MFC-265C, MFC-290C, MFC-295CN, MFC-3360C, MFC-425CN, MFC-440CN, MFC-465CN, MFC-490CW, MFC-5460CN, MFC-5490CN, MFC-5860CN, MFC-5890CN, MFC-640CW, MFC-6490CW, MFC-665CW, MFC-685CW, MFC-7220, MFC-7225N, MFC-7320, MFC-7340, MFC-7420, MFC-7440N, MFC-7450, MFC-7820N, MFC-7840N, MFC-7840W, MFC-790CW, MFC-795CW, MFC-8220, MFC-8370DN, MFC-8380DN, MFC-8460N, MFC-8480DN, MFC-885CW, MFC-8860DN, MFC-8880DN, MFC-8890DW, MFC-9010CN, MFC-9120CN, MFC-9320CW, MFC-9420CN, MFC-9440CN, MFC-9450CDN, MFC-9840CDW, MFC-990CW
Content Feedback
To help us improve our support, please provide your feedback below.