PT-2730
FAQs & Troubleshooting
What can I do when the installation of the printer driver was not completed.
(The installation of the printer driver stops after connecting the printer.)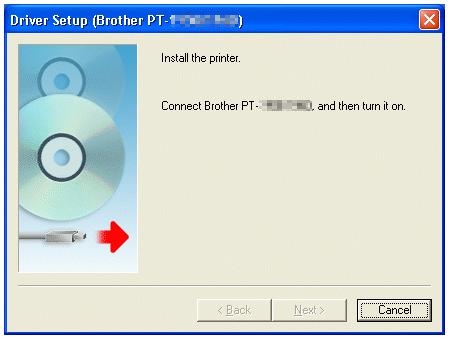 Please check the following:

Did you turn on the printer after it was connected to the computer?
If you don't turn it on, the computer does not recognize that the printer was connected.
Is the printer connected through a USB Hub? Depending on the model of the USB Hub, the printer may not be correctly detected. Connect it directly to the USB port on the computer.
If you still get the same problem, please use the uninstall tool. It deletes the registry information and all files related to the printer driver.
Download the tool :

Printer driver information cleanup tool

Quit all applications.
Double click the downloaded file and extract it.
Double click "ptsweep.exe" to start up the tool.

(using a image of PT-2430PC)

Check the list of models, and then click Run button.
A message will appear indicating that the information was deleted.
Click OK button and restart the computer.
Re-install the printer driver.
Using this tool may affect the drivers for the Brother P-touch, Label Printer, StampCreator, and Mobile Printer series. After using this tool, re-install the drivers for the above models that you are using.
If your question was not answered, have you checked other FAQs?
Have you checked manuals?
If you need further assistance, please contact Brother customer service:
Related Models
MW-100, MW-120, MW-140BT, MW-145BT, MW-260, Pocket Jet6 (PJ-622), Pocket Jet6 w BT (PJ-662), Pocket Jet6Plus (PJ-623), Pocket Jet6Plus w BT (PJ-663), PocketJet PJ-673 w WLAN, PocketJet3 (PJ-522), PocketJet3 w BT (PJ-562), PocketJet3Plus (PJ-523), PocketJet3Plus w BT (PJ-563), PT-1230PC, PT-1500PC, PT-1650, PT-18R, PT-18RKT, PT-1950, PT-1960, PT-2100, PT-2110, PT-2300, PT-2310, PT-2430PC, PT-2600, PT-2610, PT-2700, PT-2710, PT-2730, PT-3600, PT-7600, PT-9200DX, PT-9200PC, PT-9500PC, PT-9600, PT-9700PC, PT-9800PCN, PT-D450, PT-D600, PT-E500, PT-E550W, PT-H500, PT-P700, PT-P750W, QL-1050, QL-1050N, QL-1060N, QL-500, QL-550, QL-570, QL-570VM, QL-580N, QL-650TD, QL-700, QL-710W, QL-720NW, RJ-3050, RJ-3150, RJ-4030, RJ-4040, RL-700S, SC-2000, SC-2000USB, TD-2020, TD-2120N, TD-2130N, TD-4000, TD-4100N
Content Feedback
To help us improve our support, please provide your feedback below.