PT-2730
| | |
| --- | --- |
| | FAQs & Troubleshooting |
I cannot install the printer driver because the installation stops after I connect the printer to my computer.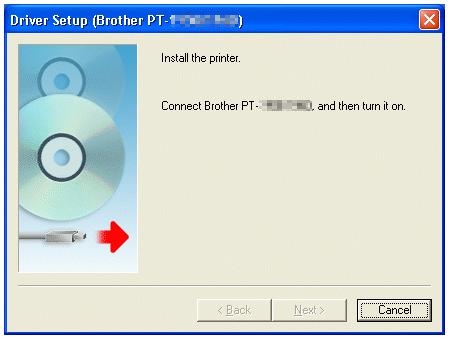 First, make sure that you:

Turned the machine on after you connected it to the computer.
Connected the machine directly to a USB port on the computer, without using any USB hubs.
If you still cannot complete the printer driver installation, use the Printer driver information cleanup tool (Printer Driver Uninstaller). Use this tool to delete the registry information and all files related to the printer driver, before trying to install the printer driver again.

Do the following:
Create a new folder on your C:\ disk drive and name it "PTSWEEP".
Double-click the downloaded file, click [Browse] to select the folder you created (C:\PTSWEEP), click [OK], and then click [Unzip].



When finished, click [OK].


Open the folder you created and double-click [ptsweep.exe]. Follow the on-screen instructions.

After restarting your computer, re-install the printer driver.
(For USB cable users: before restarting your computer, disconnect the USB cable.)
If using the Brother P-touch, Label Printer, StampCreator, and Mobile Printer series, after using the tool re-install the drivers for the series that you use.
If your machine's icon still remains in the Devices and Printers after running the tool, right-click the icon and delete it.
If your question was not answered, have you checked other FAQs?
Have you checked manuals?
If you need further assistance, please contact Brother customer service:
Related Models
MW-100, MW-120, MW-140BT, MW-145BT, MW-260, PJ-522, PJ-523, PJ-562, PJ-563, PJ-622, PJ-623, PJ-662, PJ-663, PJ-673, PT-1230PC, PT-1500PC, PT-1650, PT-18R, PT-18RKT, PT-1950, PT-1960, PT-2100, PT-2110, PT-2300, PT-2310, PT-2430PC, PT-2600, PT-2610, PT-2700, PT-2710, PT-2730, PT-3600, PT-7600, PT-9200DX, PT-9200PC, PT-9500PC, PT-9600, PT-9700PC, PT-9800PCN, PT-D450, PT-D600, PT-E500, PT-E550W, PT-H500, PT-P700, PT-P750W, QL-1050, QL-1050N, QL-1060N, QL-500, QL-550, QL-570, QL-570VM, QL-580N, QL-650TD, QL-700, QL-710W, QL-720NW, RJ-3050, RJ-3150, RJ-4030, RJ-4040, RL-700S, SC-2000, SC-2000USB, TD-2020, TD-2120N, TD-2130N, TD-4000, TD-4100N
Content Feedback
To help us improve our support, please provide your feedback below.